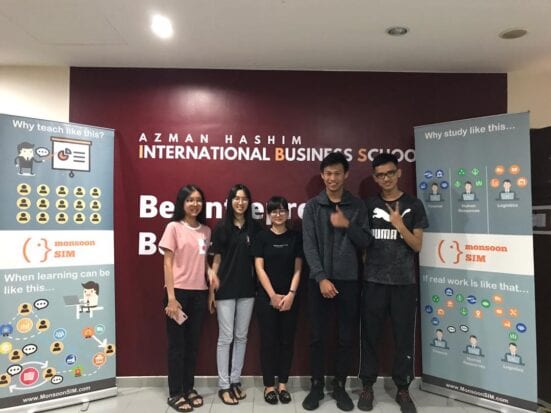 By Dr. MOHAMAD SHAH KASSIM & Dr ZULKIFLI KHAIR
Two UTM teams, Auditors and New Explosion begged top spots during the Malaysia Enterprise Resource Management Competition 2020 which was held on 17th October 2020.
Team Auditors scored 79.8% of the scoring matrix to become champion beating other teams from UTAR, USM, and Polimetro JB.
While team New Explosion also from UTM scored 74.37% of the scoring matrix to secure the top two spots of the competition.
Another UTM team, Superpanda scored 66.78% of the scoring matrix at the 7th place which is the last slot to represent Malaysia in the forthcoming Regional Enterprise Resource Management Competition 2020.
All top 7 teams of the final round will represent Malaysia in the international competition that will be organized by Deakin University, Melbourne, Australia.
MonsoonSIM Enterprise Resource Management Competition (eMERMC) is an annual competition hosted by MonsoonSIM and its partners.
This year, eMERMC 2020 was co-hosted by Universiti Sains Malaysia and took place during the covid19 pandemic.
A total of 18 teams participated in the 2020 event. The teams consisted of various education institutions, namely UTM, USM, UTAR, UTHM, UiTM Segamat and PoliMetro.
The competition was played in two rounds: the preliminary round and final round.
As the champion, Auditors team brought home RM1,500, while New Explosion received RM1,000 cash prizes which were fully sponsored by USM, the hosting university.
UTM teams were trained by a group of highly dedicated lecturers (certified trainers), from Azman Hashim International Business School (AHIBS).
They are Dr. Mohamad Shah Kassim, Mr. Shafudin Md. Yatim (deceased), Dr. Zulkifli Khair (SHARPS FSSH), Dr. Mazilah Abdullah, Dr. Sabrinah Adam and Dr. M. Khairuddin Ramley.
UTM has subscribed the MonsoonSIM Business Simulation since 2016 and has embedded MonsoonSIM in several courses involving thousands of students from business, engineering and social science faculties.