Prepared By: Oscar Ling Fang Jack
Three teams from Universiti Teknologi Malaysia (UTM) were declared as the Champion, 1st Runner Up and 2nd Runner Up at University Open Virtual Hackathon (West Malaysia) organised by Malaysia Productivity Corporation (MPC), MPC Electrical & Electronics Productivity Nexus (EEPN), Iskandar Regional Development Authority (IRDA), Youth Ventures and co-organized by UTM.
The winners were the Champion, Deep Port Vision, 1st Runner Up, InfiniTea and the 2nd Runner Up AI Dream Team.
This hackathon required participants to develop affordable AI-based machine vision Proof of Concepts (POCs) solutions for potential adoption by Small and Medium Enterprises (SMEs).
In this competition, the participants were expected to use the Intel OpenVino Toolkit to design an engineering solution based on 10 specific industrial problem statements provided by the industry.
The hackathon began with an official kickstart where participants were given only five days to develop the solution.
During the journey, all participants were trained by a trainer from Intel on the application of OpenVino toolkits in order for them to develop a machine vision based prototype.
All participants also received a training session on pitch deck and video making from youth ventures.
In the final pitching session, this hackathon had witnessed 13 teams of student from 5 institutions of higher learning (IHL) namely UTM, USM, UM, University Nottingham Malaysia (UNM) and UOW Malaysia KDU University College.
It was a nerve-wracking competition with all teams fighting for the top positions.
UTM teams were fortunate to be able to secure the top three places. With the ease of the Intel OpenVino Toolkit, UTM teams managed to focus on developing the solution with a high level of complexity including machine vision and Image Processing," said Oscar Ling Fang Jack who was the team leader of the champion team.
He said, their team was very grateful to have Dr. Yeong Che Fai from the School of Electrical Engineering, Faculty of Engineering who is the series competition winner to mentor and guide them throughout the preparation period.
"UTM provides a good platform for students like us to engage and connect with industry which has allowed us to have a more future ready workforce," he added.
Champion : Deep Port Vision 
Advisor : Dr. Yeong Che Fai
1) Oscar Ling Fang Jack (Mechatronics Engineering 3rd Year)
2) Woon Jia Liang (Mechatronics Engineering 3rd Year)
3) Wong Wei Lee ( Mechatronics Engineering 3rd Year)
4) Shaikh Shithil ( Mechanical Engineering 3rd Year)
Description:
The Deep Port Vision team  had created an AI Inspection System for port. This system is a one stop solution for port operators to manage their container smartly. Deep Port Vision contained 4 features including container info recognition, physical damage detection, dashboard for monitoring and Big data predictive detection.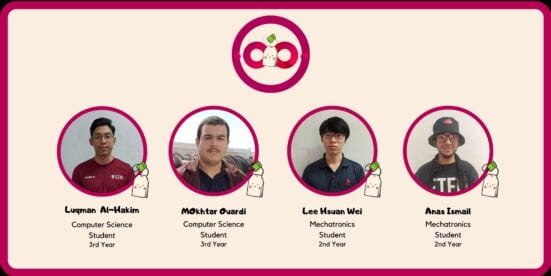 1st Runner Up : InfiniTea
Mokhtar Ouardi (Software Engineering 3RD Year)
Lee Hsuan Wei (Mechatronics Engineering 2nd Year)
Anas Ismail Hassan Amer (Mechatronics Engineering 2nd Year)
Luqman Al-Hakim bin Ghani (Software Engineering 3rd Year)
Description:
InfiniTea designed a machine learning solution as an alternative for quality control in the sector of glove manufacturing. The concept highlights image processing to defect detection and an IOT system for product traceability.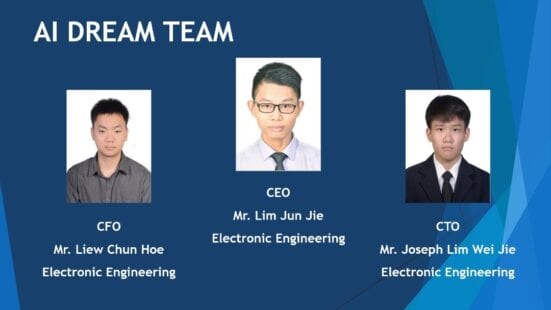 2nd Runner Up : AI Dream Team
Lim Jun Jie (Electronics Engineering 3rd Year)
Joseph Lim Wei Jie (Electronics Engineering 3rd Year)
Liew Chun Hoe (Electronics Engineering 3rd Year)
Description:
UTM AI Dream Team has created an AI Recycling Inspection System. It is a brand new recycling inspection system which utilizes AI based machine vision and Intel OpenVINO toolkit to sort out the recycle and non-recycle waste of the industry.
Congratulations UTM!