Lecturers from the Faculty of Social Sciences and Humanities Universiti Teknologi Malaysia (FSSH UTM) and Institute of Teaching Temenggong Ibrahim Campus (IPGKTI) had collaborated to organize a virtual webinar to share with the public about STEM exploration with Indigenous people on 29 September 2020.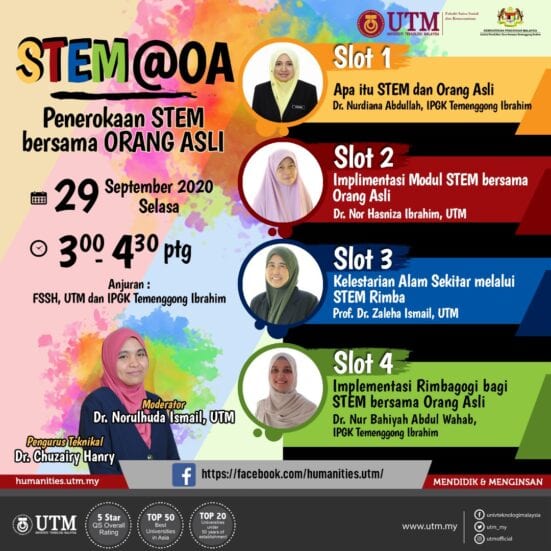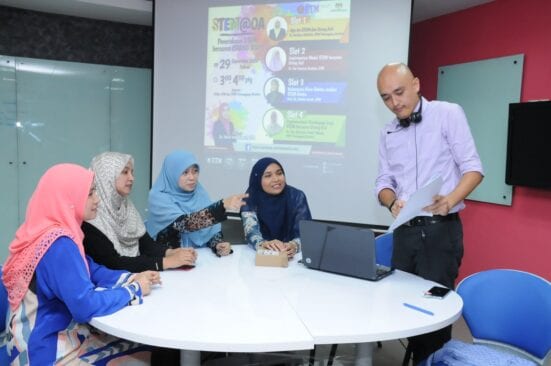 The webinar was broadcasted live for one hour and a half starting from 3.00 pm until 4.30 pm on the Faculty of Social Sciences and Humanities Facebook through the Streamyard conducted by Dr. Chuzairy Hanri.
This webinar featured four experts in STEM education for Indigenous people chaired by Dr. Norulhuda Ismail from  FSSH UTM. The first speaker was Dr. Nurdiana Abdullah from IPGKTI revolving around what STEM and indigenous people are. Followed by Dr. Nor Hasniza Ibrahim from FSSH UTM who described the STEM module based on hygiene that can be implemented with indigenous people.
Next,  Prof. Dr. Zaleha Ismail from FSSH UTM delivered an input on Environmental Sustainability through STEM Rimba. Meanwhile, Dr. Nur Bahiyah Abdul Wahab from IPGKTI discussed aspects of the implementation of Rimbagogy for STEM with indigenous people.
Through this webinar, the goal to highlight the STEM approach that is appropriate for indigenous people was achieved. The essence of this webinar is 1. STEM approach for Indigenous people should be closely related to nature, 2. materials used are readily available, 3. STEM concepts introduced should also be easy to understand and 4. Activities implemented should also be hands-on to attract the interest of indigenous students.
The forum session went smoothly and received a good response from the audience. Many viewers expressed their interest in the webinar including the viewers who invited the team to participate in their activities which will be held with the indigenous people at Royal Belum. Moreover, there was also a viewer who provided suggestions for STEM activities that focus on music by using natural materials in the indigenous environment.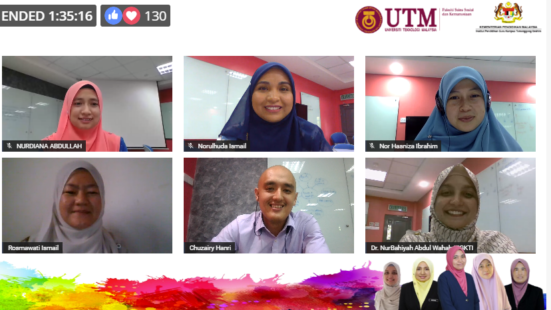 Overall, the cooperation between FSSH UTM and IPGKTI in preserving STEM education among indigenous people is an excellent effort to help improve the level of Aboriginal education while emphasising the concept of hygiene for personal, family and environment.
Authors: Chuzairy Hanri, Nor Hasniza Ibrahim dan Norulhuda Ismail