Faculty of Social Sciences and Humanities (FSSH), Universiti Teknologi Malaysia (UTM) organized a Professor Adjunct Lecture series on 30th September 2020. The lecture series was about how to invest in stock for beginners and was delivered by Datuk Zunaidah Idris, the Senior Vice President, Hong Leong Investment Bank and also the Adjunct Professor in SHARPS FSSH with an expertise in investment.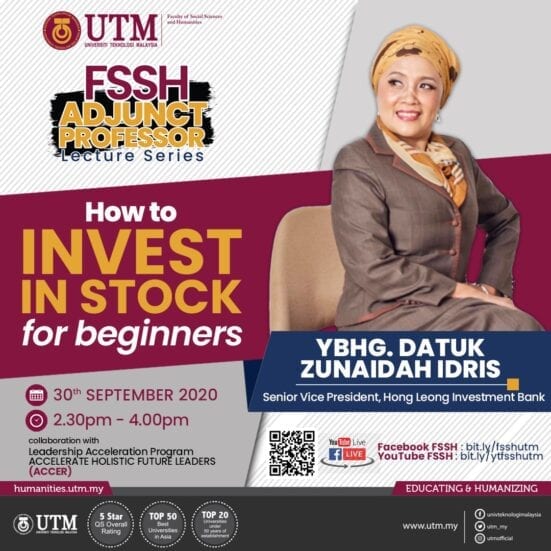 The virtual event was officiated by Prof. Ts Dr. Zaidatun Tasir, the Dean of FSSH and moderated by Dr. Irmawati Norazman, a senior lecturer from SHARPS FSSH. The lecture series was conducted online through a live broadcast on FSSH Facebook page and FSSH YouTube channel. The viewers recorded for this lecture series were up to 1.9k on both Facebook page and YouTube channel.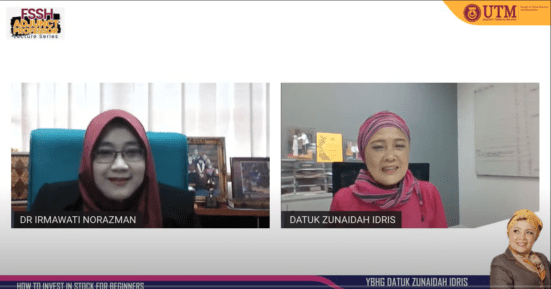 In this adjunct lecture series, Datuk Zunaidah introduced the Malaysian capital market regulator, including Bank Negara, Securities Commission Malaysia and Bursa Malaysia. She also explained all the main functions and responsibilities of the capital market regulator. On top of that, she also named several Government Linked Companies (GLC) and Brokers in Malaysia to the viewers. She wrapped up her lecture by explaining further on how to start investing in the stock market step-by-step.
Despite sharing her experience, Datuk Zunaidah also invited Puan Sarimah, Director of the Professional Standards & Qualifications, Securities Industries Development Corporation (SIDC) to talk about the Malaysian Capital Market. Puan Sarimah also discussed some career options and potential employers in the Malaysian capital market. She also shared how to become a dealer representative and what does it take to join the capital market industry.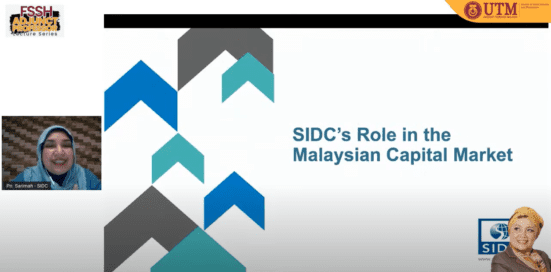 Towards the end, there were questions and answer sessions between the viewers and the speakers. Datuk Zunaidah also grabed this opportunity to give some rewards which were Starbucks cards with a value of RM30 each to five students who managed to answer her questions.
Prepared by: Ana Haziqah A Rashid and Siti Aisyah Panatik