So far, the year 2020 has been an unexpected year for all because of the COVID-19 pandemic crisis. Despite all the cancellations of Universiti Teknologi Malaysia (UTM) alumni related events planned for the year, Department of Biosciences, Faculty of Science, in collaboration with Biosciences Alumni Society (BiosAS) had successfully organized and hosted two webinars for the 4th year students who are about to graduate. The webinars were aimed to guide and share relevant information, tips and experiences to prepare these students for their future in deciding the next step in life after graduation.
The 1st webinar held on the 6th of August mainly focused on the choices of the first job, employers' expectations, and tips on attending an interview. The speakers for this program were Mr. Fahmi Othman, Mr. Muhammad Hafizzudin Mohd Arif and Mr. Ahmad Zuhairi Abd Rahman. This webinar was attended by 39 Biosciences students, 14 alumni cum staff of the Faculty of Science, and two representatives from other departments.
In contrast, the 2nd webinar held on the 23rd of September focused on pursuing postgraduate studies.  This webinar was attended by a smaller group of students intending to pursue postgraduate studies. The speakers were Dr. Lam Ming Quan with the title: To-do list before enrolling into a PG Programme and challenges faced by PG students; the second speaker, Dr. Wan Siti Nur Atirah Wan Mohd Azemin with the title: Expectations as a PG students & challenges faced by PG students; and Dr. Shankar Ramanathan with the title: Benefits of PG studies & challenges faced by PG students.
As a whole, both webinars acclaimed positive feedback from the student participants as the webinars helped to guide them in making decisions for their next step after graduation. The Department of Biosciences will continue to collaborate with BiosAS to organize more activities in the future to enhance student development and produce impactful students.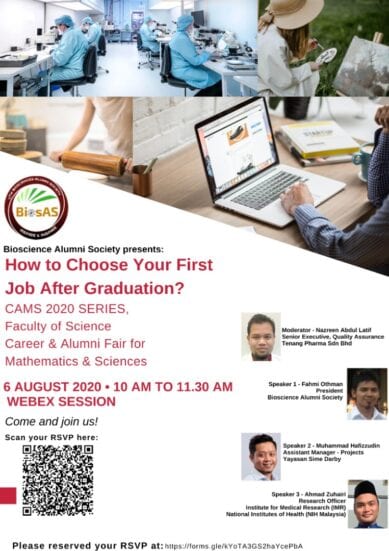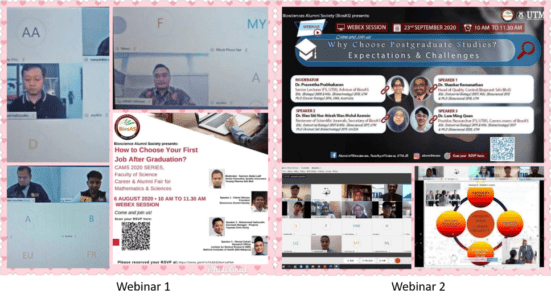 Prepared by: Dr. Praseetha Prabhakaran & Dr. Siti Pauliena Mohd Bohari