The birth of the Read-to-Lead Book Club in August 2019 has since witnessed tremendous participation from all over the world!
We began as a humble book club featuring international students who volunteered to share insights and reviews of their favourite books. A little corner at UTM International Kuala Lumpur office was dedicated for the gathering of reading minds every once a month, with snacks and coffee for after until the global world is prescribed with thus far an incurable COVID-19 pandemic.  Alas, the year 2020 has given us the opportunity to keep the reading network and connection alive and on toast, albeit the online platform may never replace the joy of having that physical touches and face-to-face chats over coffees and cakes to conclude the exciting global read session each month.
Today, the Zoom application congregated attendees from all over the world for the online Read-to-Lead Book Club session bearing the theme "To Teach is to Touch a Life Forever". The session was moderated by an avid reader herself, Associate Professor Dr Norhayati Abdullah, Associate Director of UTM International Kuala Lumpur. The session was also attended by Professor Dr Koji Homma, Director, International Centre of Tokyo City University; Dr Pinar Elbasan, General Coordinator, Eurasian Universities Union, Istanbul Aydin University, Turkey; Professor Emeritus Dato's Ir. Ts. Dr Zainai Mohamed, Professor at UTM Razak Faculty of Technology and Informatics and the International Students Society Committee Members streaming from Oman, Sri Lanka, Saudi Arabia and China.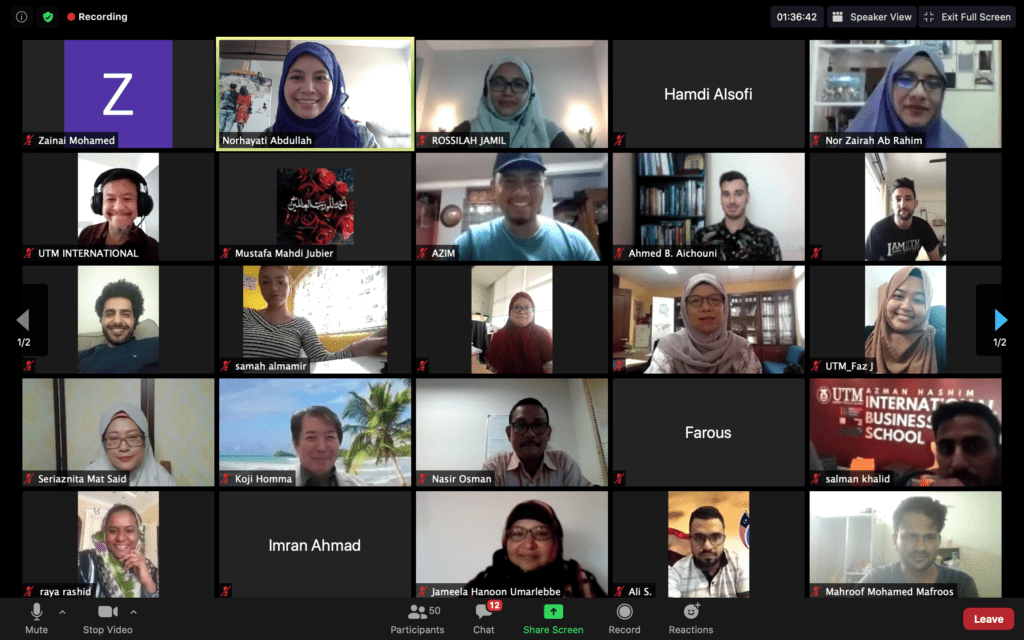 The first speaker, Dr Seriaznita Hj Mat Said, Faculty of Social Sciences and Humanities (FSSH) shared her insights on a book authored by Professor Robert Feldman entitled The Liar in Your Life: The Way to Truthful Relationships. Professor Feldman, a leading psychology Professor explores the role of lying in today's culture discussing why people lie, why some deceptions are perceived as harmless and the best ways to manage a habitual liar. The book explains that contrary to our common beliefs, it is nearly impossible to spot a liar whereby studies have shown that no relationship exists between nervousness, lack of eye contact, or a trembling voice with acts of deception.
The international bestseller entitled Ikigai, was the chosen book by the second speaker Assoc. Professor Dr Rossilah Jamil from Azman Hashim International Business School (AHIBS). The book is authored by Hector Garcia and Francesc Miralles. Ikigai touches the various aspects of life which can help us achieve a long happy life based on ancient, well-practised Japanese technique. The word ikigai is derived from iki, meaning life and kai, meaning the realisation of hopes and expectations. It is also defined as a reason to jump out of bed each morning! Dr Rossilah summarised the ten rules of ikigai – staying active; take it slow; don't fill your stomach; surround yourself with good friends; get in shape for your next birthday; be cheerful and optimistic; reconnect with nature; give thanks every day; live in the moment and follow your very own unique ikigai.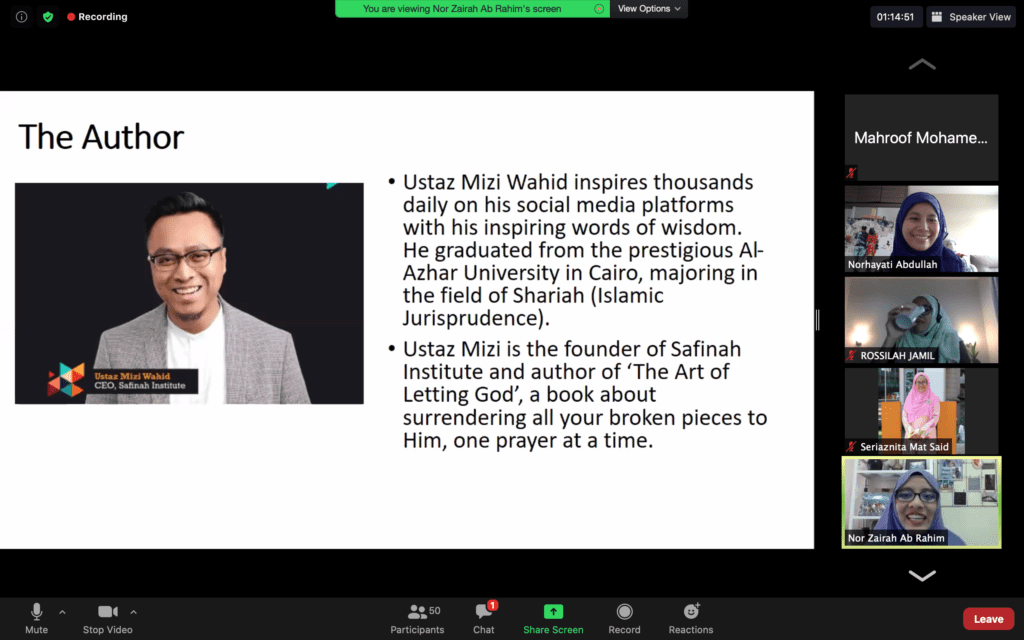 The meaningful session was wrapped up beautifully by the third speaker, Assoc. Professor Dr Nor Zairah Ab Rahim with her specially chosen book entitled You Are Loved written by a renowned Singaporean author Mizi Wahid. The book illustrated the seven things to remember when you feel broken, left out and abandoned.
You were created on purpose
Your mistakes don't define you
Somebody out there loves you for who you are
Forgiveness begins with the self
You are enough
Never attach your value to people and things
To know you is to love you so, know yourself
In this book, Mizi Wahid explores the concept of love and its impact on our lives. You Are Loved is not just emotionally inspiring but also spiritually empowering, a companion that we all need as we try to find our way back to the real meaning of love.
UTM International Kuala Lumpur welcomes you to join us in our next Read-to-Lead Book Club session so stay tuned and meanwhile, stay truthful, follow your ikigai and you are loved!