Johor Bahru – Malaysian Institute of Architects or Pertubuhan Arkitek Malaysia (PAM) had successfully held the 41st Annual General Meeting on 25 July 2020. The meeting was conducted at PAM Southern Chapter with all standard operating procedures in place due to COVID-19 pandemic and Recovery Movement Control Order (RMCO) in the country. The AGM started at 9.00am and attended by all active members.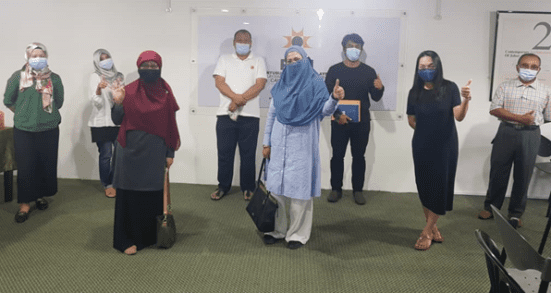 Over the year 2019/2020, PAM Southern Chapter was led by Ar Hazri bin Abdul Aziz as the chairman. Varieties of activities and programs were successfully organised in collaboration with local authorities such as Majlis Bandaraya Johor Bahru and Majlis Perbandaran Pasir Gudang.
The events held included 10 Continuing Professional Development (CPD) Seminars, World Architecture Day Seminar, Forum & Exhibition (WAD2019) with the title of Architecture for Tomorrow at The Puteri Pacific Hotel, Johor Bahru and Building Information Modelling (BIM) training seminar.
Ar Samsiah binti Abdullah from Faculty of Built Environment and Surveying (FABU), Universiti Teknologi Malaysia (UTM) is the Immediate Past Chairman. Other than Ar Samsiah,  two other academic members from FABU UTM were re-elected as board members for 2020/2021: Ar Norshahida binti Azili from Architecture Programme as Honorary Secretary, and Ar Chan Wai Lai from Architecture Programme as Committee Member.

Board Members of Pertubuhan Arkitek Malaysia Southern Chapter 2020/2021
Chairperson:               Ar Hazri Bin Abdul Aziz
Deputy Chairman        Ar Haji Muhamad Zawawi Bin Zainuddin
Vice-Chairperson:       Ar Haji Md Razin Bin Mahmood
Imm. Past Chairman   Ar Samsiah Binti Abdullah
Honorary Secretary:    Ar  Norshahida Binti Azili
Honorary Treasurer:    Ar Haji Ismail BIn Ros
Committee Members:
Dato' Ar Haji Norzam Darmin
Ar Chan Wai Lai
Ar Yap Siow Chek
Ar Chok Liong Hoi
Ar Zazarena Binti Mohamad
Ar Hanis Nazurah Binti Abu Bakar
Graduate Architect Rep:
En Sahrudin Omar
En Mohd Khairil Izaidy
Cik Lau Wei Lin
Article By: Ar Chan Wai Lai