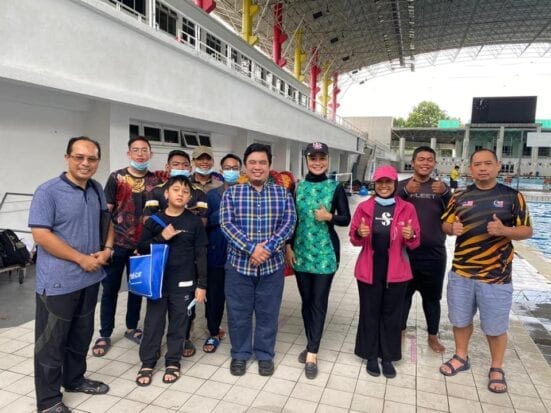 On the 19th and 20th September 2020, Mask On UTM secretariat team, alongside the team members of Malaysian Deaf Sports Association (MSDeaf) and KL Wibawa Community Organization (PMWKL) have once again leaped at the opportunity to breathe in water, and this time around they underwent confined water training for PADI Open Water License at Pusat Akuatik Darul Ehsan, Shah Alam, Selangor. This session was made exceptional as 4 male youngsters from B40 groups were funded to be part of the CSR Mask On UTM Project and attended the confined water training.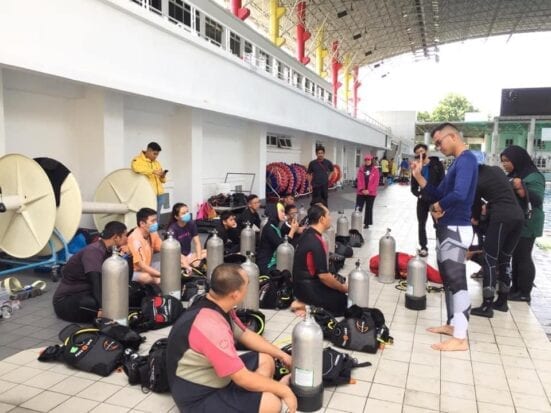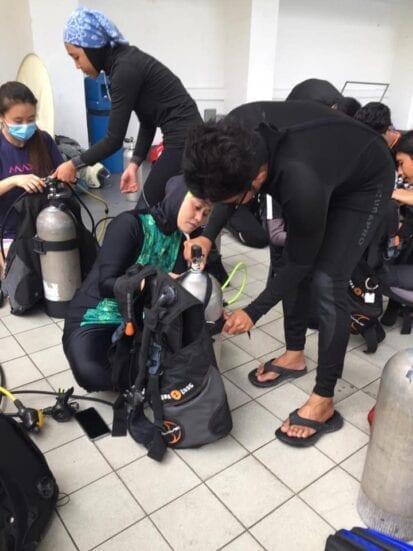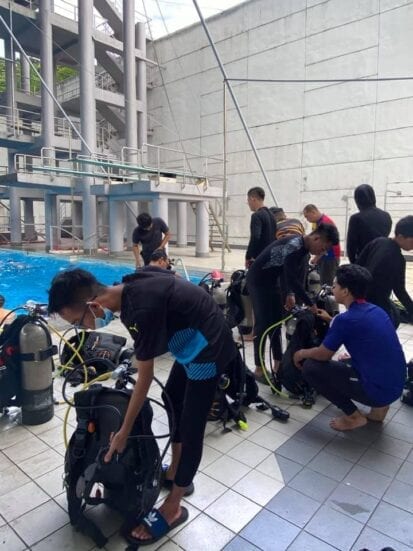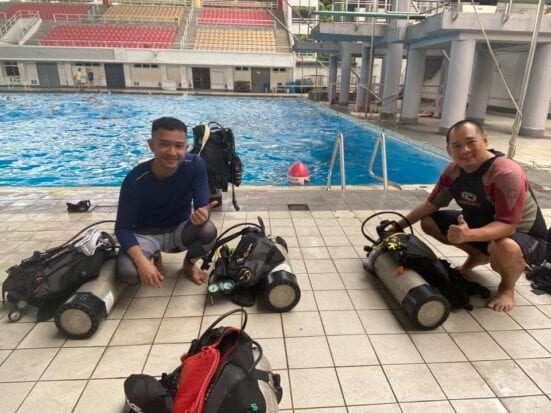 As per usual, the training began with a brief diving overview, from gears (air tank, mask, regulator, buoyancy compensator, pressure gauze, fins) to safety aspects by dive instructors from I-Divers (diving centre directed by Ustaz Muhammad bin Abdullah  Al-Amin). All partakers were also taught on how to assemble their dive gear properly. The partakers practiced basic diving skills such as clearing water from mask, ascending and descending. The instructors demonstrated and reviewed the skills with them until they became comfortable performing them on their own.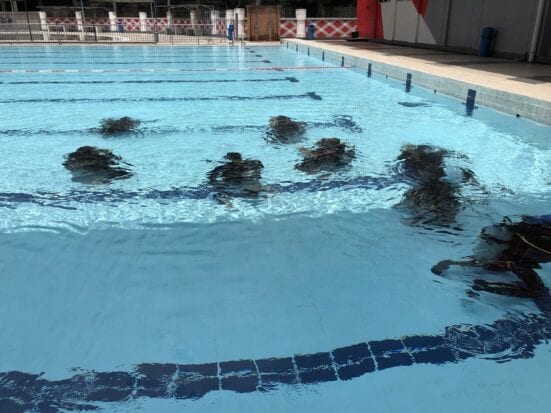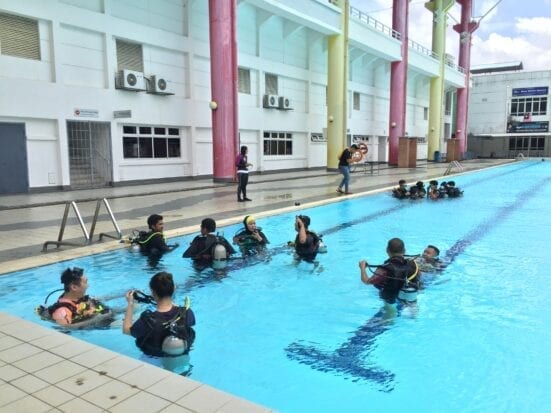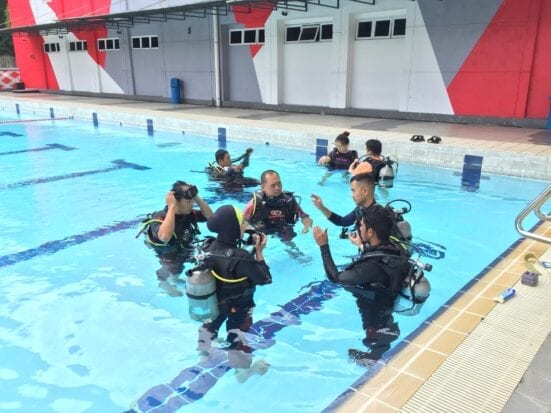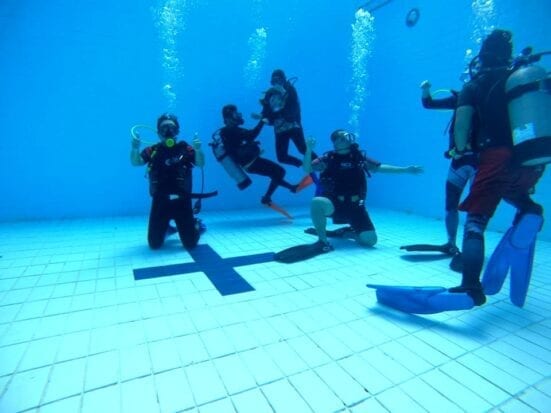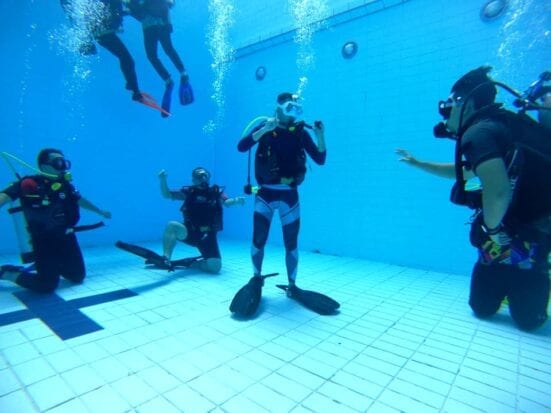 The confined water training has become our second discovery diving session for MJIIT-UTM first special project to shape the career of scuba divers among the unemployed with hearing loss and potential poor teenagers. The next phase of this project will be the Open Water diving in a selected island, where the participants will learn to dive by diving to a maximum of 18 metres/60 feet. The open water course includes four total dives, usually done over two days. With the instructors by their sides, they will practice the skills they have acquired in confined water, and explore the underwater world.
The participants passed brilliantly, although many were entering the pool and swimming for the first time! After experiencing the thrill of diving for the first time, there's simply no turning back. Congratulations to the great and extraordinary team of MSDeaf, PMWKL, and MJIIT and UTM partners for successfully gaining a unique and calming experience in the confined water training program trained and guided by I-Divers team.
Mask On UTM is a special project incorporating a quintuple helix model, spearheaded by Universiti Teknologi Malaysia (UTM), with Kementerian Belia & Sukan Malaysia (KBS), MSDeaf, selected NGOs and I-Divers (professional PADI scuba divers).
Mask On aims to nurture and develop financially and physically underprivileged teenagers / young adults aged 16 – 30 years old, especially those living in urban poverty and those with hearing difficulties to secure careers in the global scuba diving industry.
Participants will be funded for at most 1 year, to undergo intensive swimming and diving training, with selected credible and reputed professional scuba divers in the region.
At the end of the program, participants will secure a career either as a Dive Master or Dive Instructor and will have a choice to pursue a more advanced training package in the commercial diving industry.
Mask On will be launched by the Minister of KBS in November along with a crowdfunding platform to allow public and private sectors to contribute financially to the training of participants.
If you wish to know more about the CSR project, email us at rahayutasnim@utm.my.
Watch Mask On UTM official video here: https://youtu.be/pZIqsVpSzv8