ACTS Smart Solutions Sdn. Bhd., a Universiti Teknologi Malaysia (UTM) spin-off company, has been actively involved in ASEAN NCAP Collaborative Holistic Research (ANCHOR) projects since 2018 with several projects awarded to support the development of the New Car Assessment Program for Southeast Asian Countries (ASEAN NCAP) protocols.
On 14 August 2020, a special session was held at the Malaysian Institute of Road Safety Research (MIROS) office to handover project outputs of ANCHOR II projects titled "Child Presence Detection" and "Anthropometric Data of ASEAN Adult & Children for ASEAN NCAP", where two research books and a set of ASEAN manikins replica were passed to the Secretary-General of ASEAN NCAP, Ir. Ts. Dr. Khairil Anwar Abu Kassim.
The handover session was witnessed by Assoc. Prof. Ts. Dr. Noor Azurati Ahmad @ Salleh and Assoc. Prof. Ts. Dr. Mohd Khairi Abu Husain from UTM Innovation and Commercialization Centre (UTM ICC).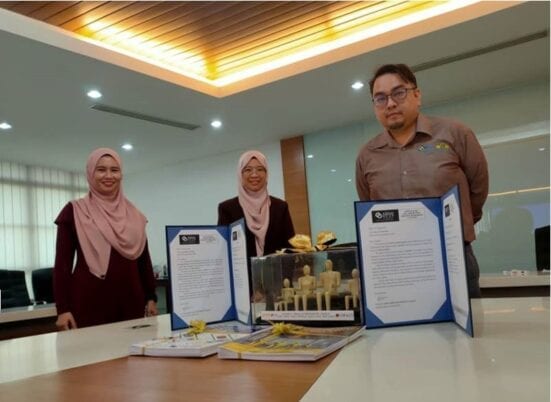 ASEAN NCAP, as a well-known champion of vehicle safety in the ASEAN region, will significantly benefit the outputs of these ANCHOR projects especially in fulfilling specific considerations towards the ASEAN NCAP requirements and protocols.
For instance, together with ACTS Smart Solutions, an assessment protocol for Child Presence Detection has been successfully developed. Furthermore, an anthropometric database representing ASEAN adults and children aged 6- and 10-years old has also been established as a basis for future reference in vehicle design and safety product refinement.

In the same session, ACTS Smart Solutions Sdn. Bhd. was granted with ANCHOR III's Letter of Award by Ir. Ts. Dr. Khairil Anwar for two new projects namely "Establishment of 3D-Printed Child Manikins using Anthropometric Data of 6- and 10-Years Old ASEAN Children for ASEAN NCAP" and "Optimum Chime Sound for Driver's Alert" with total funding of RM96, 100. Congratulations to the team!