The Landscape Architecture program, Faculty of Built Environment and Surveying (FABU) hosted a 'Virtual Career Fair 2020' on 21 July 2020 (Tuesday). The target participants were landscape architecture final year students. This event began from 9 am to 1 pm conducted via google meet. It was the first webinar of UTM graduates engaged with industry for job seeking. Therefore, the main objective of this career fair was to create a virtual platform during COVID-19 pandemic, so that this program could continuously assist final year students to make their first move connecting to Landscape Architecture industry. Moreover, this program has managed to give extra motivation to all Landscape architecture final year students to navigate themselves for job hunting.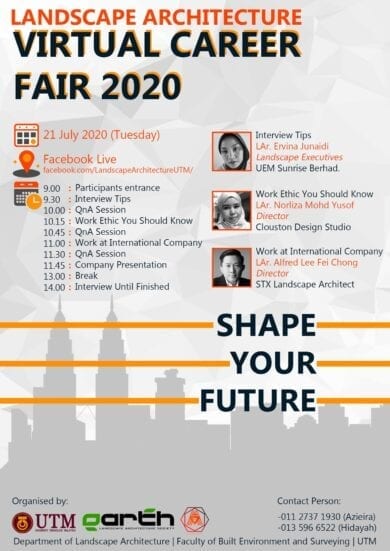 Throughout the four hours, the virtual career fair program was smoothly conducted via Google Meet. There were three talk sharing sessions carried out by respective Landscape Architects. The opening of a career fair started with a warm sharing session on interview tips. LAr. Ervina Junaidi (Landscape Executive of UEM Sunrise Bhd, Johor Bahru) delivered the first job interview tips which covered interview preparation and the useful guides during an interview session. Comes to the tricky part of dos and don'ts interview tips, the speaker elucidated how an interviewee can do a step-by-step preparation to respond to the question, interview interaction, and preparing physical appearance to look professional.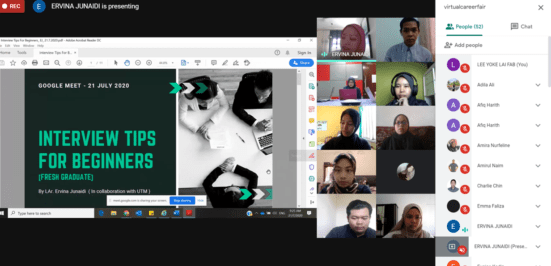 Subsequently, work ethics as a Landscape Architect was shared by LAr. Norliza Mohd Yusof (Director of Clouston Design Studio, Kuala Lumpur). The speaker outlined how a young landscape architect should be focused on work, right in time management, and resisting procrastination. Participants were inspired by the essentials code of ethics and undertake a professional practice to work as a Landscape Architect. Last talk session was conveyed by LAr. Alfred Lee Fei Chong (Director of STX Landscape Architect, Singapore). LAr. Alfred was passionate sharing about working experiences and meaningful international company. The significant experience working abroad is a positive adaptation working with various people, work remotely and faced uncertain challenges working oversea landscape design project.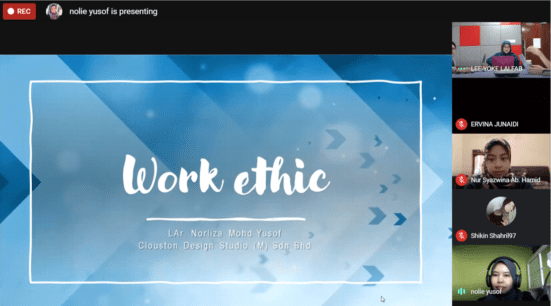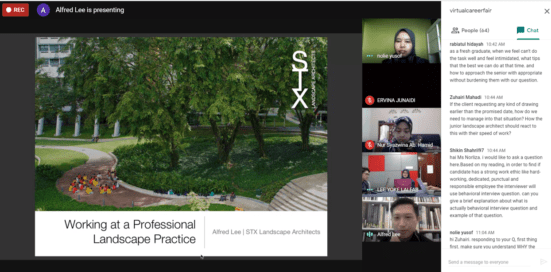 The event ended with a mock interview, and this was an essential and yet daunting part where students practice job interview. LAr. Susanna Nazaruddin and Assoc. Prof. LAr. Dr. Sapura Mohamad led two mock interview sessions. It was a fruitful sharing of company profile and company management by LAr Susanna. The interview processes were well-conducted, and students were able to accomplish an interview with parallel interview questions. There was still much room for improvement for students to polish their communication skill, self-confidence level and analytical skill for interview.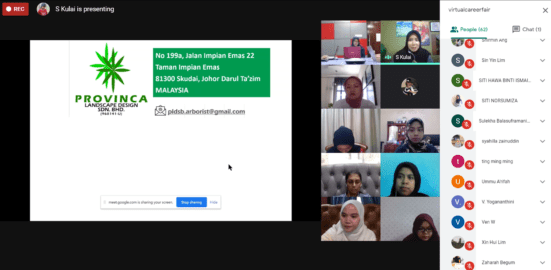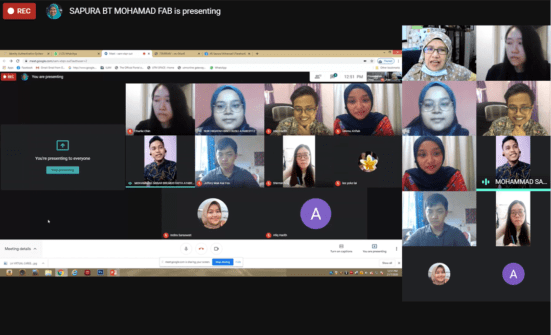 All in all, students gave positive responses throughout the talk sharing session and cheered with the practising of mock interview. All the knowledge sharing and extensive working experiences as landscape architect helped students to set the right direction leading for job seeking. The key messages to prospective UTM landscape architecture students were to be self-discipline, work competent and ready to face the challenging work with multidisciplinary field in the real-world problem. This program has been successfully executed and aligned with the 21st-century learning skill in helping students attained their future career path.