AIESEC in Johor Bahru in collaboration with UTM Center for Student Innovation and Technology Entrepreneurship (UTM XCITE), sponsored by Printcious, once again came back full force for a second run of the Virtual Youth Speak Forum 2.0; the only difference made was that more speakers were being invited and more topics which catered to the masses were being introduced and discussed. The event was broadcasted on Facebook Live for three consecutive weeks: starting from the 6th June 2020 to the 23rd June 2020. 
Similar to what was done previously during the first Virtual Youth Speak Forum 1.0, online audiences were being treated to interesting sharing from invited guests, each and every one had a different background and expertise to be shared with the audience who tuned in. The theme for this round of Virtual Youth Speak Forum: Connecting YOUth to COVID-19 aimed to bridge the gap between young people and the current pandemic we are facing today. Topics ranged from mental health to quality education, even further exposing the rarely-seen-behind-the-scenes of entrepreneurs and corporate people. 
A total of 8 speakers were being invited to be part of this event, including Mr Cheah Kar Fei (Founder and Performance Coach: Life Redesigned, Lead Coach and Head of Learning at Mindvalley), Miss Lina Yasmin Binti Jamaludin (Teach for Malaysia Fellow, 2nd year Fellow), Assoc Prof. Fatimah Puteh (Head of MyLinE Task Force UTM), Prof. Dr Fatin Aliah Phang (Chair, School of Education, Faculty of Social Sciences and Humanities, UTM), Mr John Lau Chun Kuang (Organization and Talent Management: Lazada Group), Mr Yura Te Yu Xiang (Talent Acquisition Partner: Agoda), Mr Arif Tukiman (Co-founder & CEO at RunCloud, eFounders Alibaba) and Ms Yuet Kim Lim (Co-founder & CEO at PichaEats).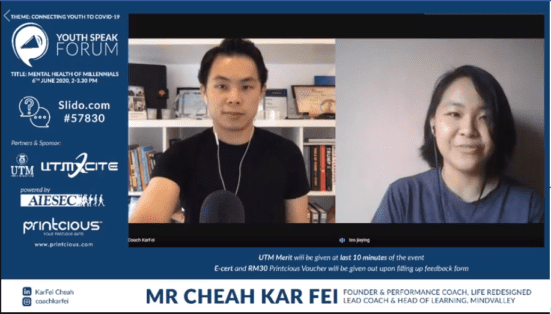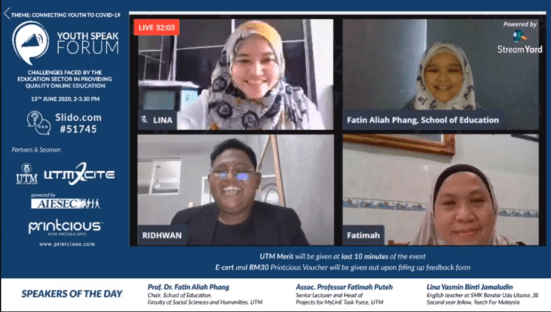 With the first sub-theme of "Mental Health of the Millennials", online audiences were being treated to a usually taboo topic in our society, which is mental health under the detailed sharing by Mr Cheah Kar Fei. Mental health is usually a topic being neglected by most of us, even though it is a very common but important issue to be regarded nevertheless. As a renowned coach, Mr Cheah did not fail to instill the importance of maintaining a good mental health condition into the audience by giving rare insights and tips about his work and experiences. Mr Cheah also mentioned that seeking help and continuous improvement is the key to maintaining good mental health and do not be afraid of failure in the process of learning.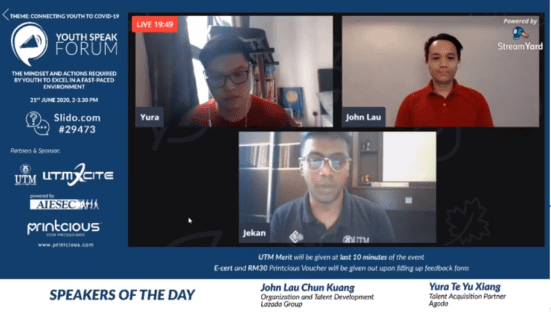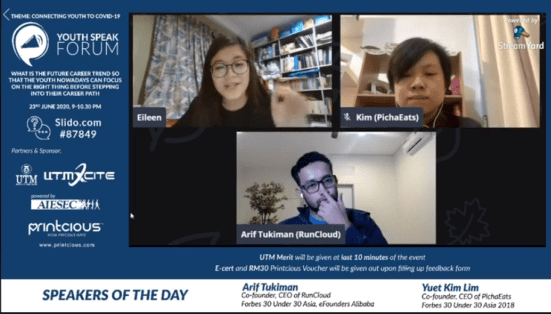 For the second week, attention was given to the field of quality education with the theme: "Challenges Faced by the Education Sector in Providing Quality Education". This topic was being introduced to address the growing concerns of how our education system will progress and evolve in critical times like this. This session was being held in the style of a forum for easier discussion within the three panels: Miss Lina, Assoc. Prof Fatimah and Prof. Dr Fatin. Topics discussed included the challenges of having online classes, techniques and strategies being implemented to capture students' attention during online classes and so on. It was an intense forum as all the invited panels had their respective points of view and who knows the struggles being faced by them all along? 
As the event progressed to its final stage, the theme being introduced was: "Future Booming Industries", where viewers would get to know more about the challenges faced by the economic sector and entrepreneurs in our country, not to mention what will be the future job market for fresh graduates. The event is being split into two parts, where part 1: "Mindset and Actions of Youth Need to Have to Work in a Fast-Paced Environment", was being spearheaded by Mr John Laun and Mr Yura Te, whereas Mr Arif and Ms Yuet Kim Lim took over the second part with the theme of: "What is the Future Career Trend so that Youth Nowadays can Focus on the Right Thing before Stepping into Their Career Path?". Both sessions received tremendous tuned-ins from the online audience and the feedback garnered from the audience and the speakers were satisfactory.   
Once again, Youth Speak Forum 2.0 has been a huge success, with leaps of improvement being made in terms of diversified speakers and backgrounds. The organizing committee would like to take this opportunity to express their utmost gratitude to all speakers, moderators and audience members for their continued support, which made this event a smooth one. To know further about the activities organized by AIESEC in Johor Bahru, tune in to AIESEC in Johor Bahru Facebook Page for updates.
Written by: Fong Mun Oon,  AIESEC Greeny Green Project Director 2019