BANGI, 10 June – Universiti Teknologi Malaysia (UTM) through its spin-off company, DF Automation & Robotics Sdn Bhd and Hospital Canselor Tuanku Muhriz UKM (HCTM) has once again joined together to develop Pak Salleh, an autonomous Spray Disinfection Robot to perform automated disinfection after the successful trial of the delivery robot, Mak Cik Kiah 19.
This project is also a collaboration with the Ministry of Science, Technology and Innovation (MOSTI), Malaysian Technology Development Corporation (MTDC) and Megajadi Hygiene Solutions Sdn Bhd.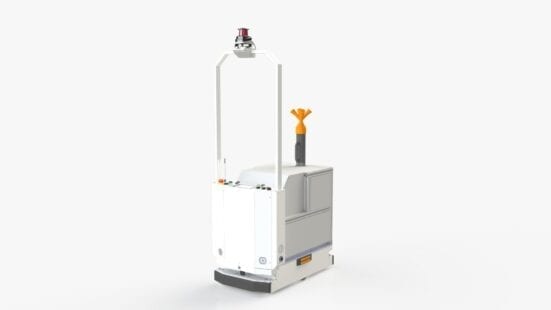 The co-founder of DF, who is also the project leader, Assoc. Prof. Dr Yeong Che Fai said that this robot can perform the disinfection work 24/7, and is capable of alleviating any risks to human workers and does not need to be suited up in limited Personal Protective Equipment (PPE) stock.
"To avoid putting human workers at risk during the disinfection process, UTM, HCTM and DF team have developed Pak Salleh, which can move autonomously to spray disinfection solutions in hospitals and offices.
Its autonomous moving base uses the Zalpha mobile robot from DF, which can carry a load of up to 300kg and a misting dispensing machine, with the capability of dispersing 20-micron particles up to 9 feet above the ground.
The senior lecturer of UTM also said that the invention was very significant as these sanitisation or disinfection activities are labour-intensive, tedious and dangerous.
"Before the pandemic, the Ministry of International Trade and Industry (MITI) has suggested frequent and consistent sanitisation to be done in the working area at least twice a day to prevent the spread of Covid-19.
Workers who carry out disinfection work need to wear full PPE and face masks to avoid being exposed to the Covid-19 virus and the disinfectant solution, which could also be harmful to their health," he added.
According to him, this small particle size will remain airborne for a while and slowly drop to the ground to disinfect any airborne microorganisms and microorganisms on surfaces, increasing the effectiveness of disinfection.
With one charge, the robot can perform 2 hours of disinfection autonomously covering up to 6000 sqft consuming 2 litres disinfectant liquid.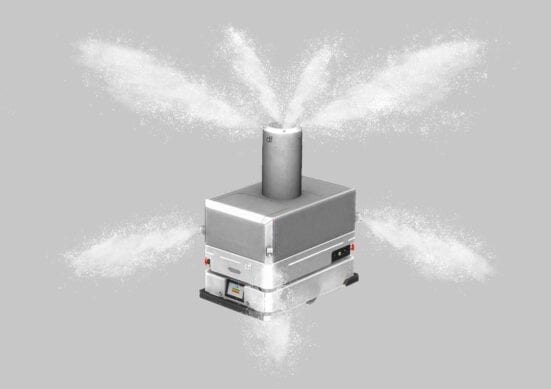 The machine has a capacity of 6 litres of disinfectant liquid.
Currently, Pak Salleh has been stationed at the 2nd floor of the Faculty of Medicine, HCTM and is programmed to perform disinfection automatically at 12 am, 6 am and 6 pm daily.
"For these 14 days, Pak Salleh has used approximately 12L disinfectant solution and has disinfected a total distance of 10,752 meters.
Results from preliminary laboratory tests from the Disinfection Control Unit shows a promising result of disinfection using the robot and more tests are still ongoing," he said.
Dr Yeong is confident that Malaysia has the talents to design and develop useful technologies and these talents need to be capitalised, especially for Covid-19 related solutions.
"I would like to take this opportunity to thank all the collaborators who bring their different expertise to the projects including their expertise in robotics, technologies, lab test, hospital operation and disinfection methods," he said.
The Director of Hospital Canselor Tuanku (HCTM) UKM, Prof Dato Dr Hanafiah Harunarashid thinks that the spray disinfection robot will be a game-changer as it not only reduces risks to workers but also provides safer working space with less burden on the workforce.
He is delighted with this collaboration between UTM, HCTM, DF, Mega Jadi, MOSTI and MTDC, showing an excellent example of combining expertise across different sectors for fast and effective solutions.
He added that this multi-collaboration model from university, hospital, industry and government agencies should be encouraged to develop more technologies for Malaysia.
Mr Chia Chin Wee, the Business Development Manager from DF expressed gratitude to all parties, especially to HCTM staff who assisted in the trial, provided feedback and conducted the validation for the robot's performance.
Meanwhile, UTM Vice-Chancellor, Prof. Datuk Ir Dr Wahid bin Omar said that this invention is another example of UTM's helping hand in combating the virus, in line with the university's initiatives to prosper lives.
"As a university that is blessed with multiple experts, we believe it is our responsibility to help the government, especially the front-liners who are struggling to serve the people in this trying time.
"Through this collaboration, we hope that together, we can break the Covid-19 chain soon," he added.
Pak Salleh is an alpha prototype and will be tested at HCTM for some time. The commercial unit is expected to be ready in a few more months by DF Automation.