AIESEC  in Johor Bahru in collaboration with UTM Centre for Student Innovation & Technology Entrepreneurship (UTM XCITE) recently hosted a virtual Youth Speak Forum through a Facebook Live event, from 2nd of May until 9th of May 2020. Youth Speak Forum 2020 was the first of its kind to be held via a virtual space, in the midst of a Movement Control Order (MCO) imposed by the Malaysian government to combating COVID-19. 
AIESEC  in Johor Bahru has long stood up to its name for being one of the university's most active youth societies, constantly creating numerous platforms for leadership development through challenging environments and supporting the United Nations' Sustainable Development Goals (SDG Goals) along the way.
Both AIESEC in Johor Bahru and UTM XCITE have a common hope that through this event, youths who are currently being confined in their own homes, are still able to connect with like-minded individuals and organizations that care for the current and global issues. The theme of this year's Youth Speak Forum – "Heroes of COVID-19" clearly brought out the main aim of the event which is to inspire youths to start taking action and playing their respective roles in fighting COVID-19, for the sake of this country we call home.   
A total of three speakers, ranging from various backgrounds and expertise were invited to share their insights or at the very least, inspire the younger generations to step up and start thinking on how they could make a difference for the community. The speakers included Dr. Yeong Che Fai (Co-founder and Director of DF Automation and Robotics Sdn Bhd), Ms. Ambika Sangaran (CEO of Biji Biji Ethical Fashion & Partner, Biji-biji Initiative & Me.reka) and Dr. Lau Cher Han (Chief Data Scientist & CEO of LEAD and Founder of CoronaTracker).  
The event started off with tremendous support of online viewers on Facebook Live, tuning in on time to be part of Dr. Yeong's sharing: "Technology and Robotics", hosted by Tan Jun Jie. For those who are still a stranger to Mak Cik Kiah 19, it is a frontline medical-and-food-delivery robot system made possible by Dr. Yeong and his great team, after numerous weeks of going through tons of design concept and video conference meetings.
Online viewers had the chance to witness how Mak Cik Kiah 19 came to be, the robot operating in real life, and the vast applications being applied at the frontline. Dr. Yeong also provided various key takeaways for viewers to reflect on after the talk, such as encouraging youths to be innovative and putting more focus on value creation.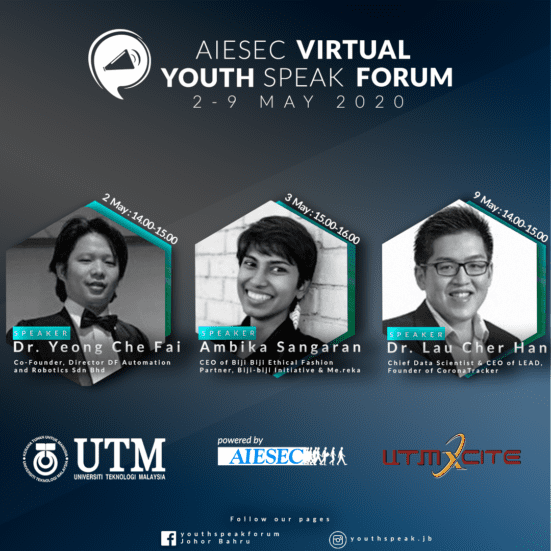 On to the second part of the virtual Youth Speak Forum, Ms. Ambika Sangaran was invited to be the key speaker of the day, with the topic: "Change-Makers". Ms. Ambika introduced to the online viewers what prompted her to be part of the sustainable and upcycling practices which eventually landed her final dream job at Biji Biji Ethical Fashion.
Ms. Ambika also gave insights about social enterprises, the principles behind it, and the impact it has created, as opposed to a regular enterprise. She emphasised the importance of doing work as a single entity and moving forward with a common goal in mind. Together, all of us are capable of making bigger impacts than we could ever imagine. There were multiple key takeaways from Ms. Ambika's session, and the one which stood out was: "To be happy in what you are doing.", which certainly made an everlasting mark on the viewers of that day.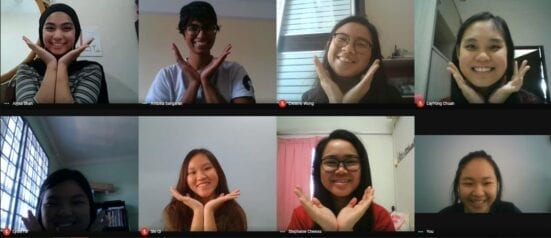 Finally, the online viewers were treated to an informative session titled: "COVID and AI" by Dr. Lau Cher Han on the final leg of this year's Youth Speak Forum. Dr. Lau provided detailed insights and information on CoronoTracker, which is currently the world's second data analytics in terms of users and search results online. Throughout the whole session, Dr. Lau explained in simple terms on the principle behind CoronaTracker's operation, the goals of creating the tracker in the first place, and its contributions towards society.
One of the main highlights of the session was Dr. Lau's debunking towards overhyped AI learning among students, which appears to be the current trend. Instead of doing so, Dr. Lau recommended thinking thoroughly about the reason for learning AI in the first place and what sort of contribution that the learners wish to bring upon mastering the skill.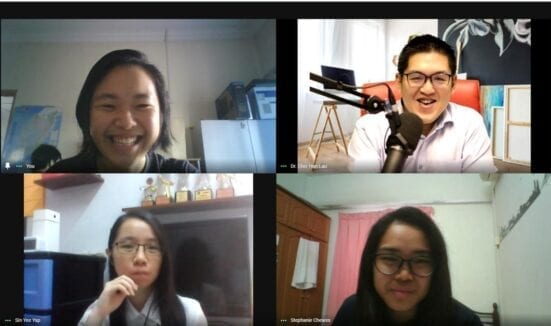 Youth Speak Forum 2020 was a huge success after having drawn huge crowds of online viewers (about 7,000 total views) ranging from various backgrounds and expertise, even though in the midst of the extended MCO. Plenty of insights were shared and numerous doubts were answered throughout the whole duration of the event, which has most certainly exceeded what has been expected from this event so far. To know further about AIESEC in Johor Bahru and its activities, please visit  AIESEC in Johor Bahru Facebook Page for updates. (Link: https://www.facebook.com/AIESECinJohorBahrupage/)
Report by: Fong Mun Onn,  AIESEC Greeny Green Project Director 2019
/ Department of Deputy Vice-Chancellor (Academic and International)