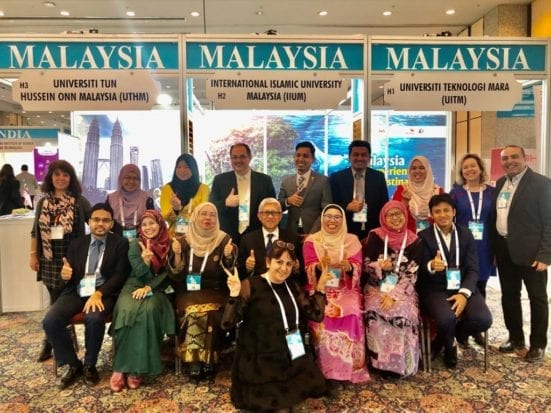 Universiti Teknologi Malaysia (UTM) participated in the 5th Eurasia Higher Education Summit (EURIE), the largest international education event in Eurasia from 19 to 21 February 2020. EURIE is the key meeting point for higher education institutions, looking to develop their international cooperation with prestigious institutions from the Eurasian region and all around the world.
The summit which was officiated by H.E. Dr. Muhyieddeen Touq, Minister of Higher Education and Scientific Research of the Hashemite Kingdom of Jordan, was attended by over 2700 attendees from 65 countries including Malaysia. Hosted at the Istanbul Lütfi Kırdar Convention Center in the heart of the Congress Valley with its magnificent Bosphorus view, the 3-day summit served unforgettable networking experiences for 18 delegates representing eight Malaysian universities namely UTM, Universiti Putra Malaysia (UPM), Universiti Tun Hussein Onn (UTHM), International Islamic University Malaysia (IIUM), Universiti Teknologi MARA (UiTM), Universiti Sains Malaysia (USM), Universiti Malaysia Pahang (UMP) and Malaysia Science University (MSU). All participants had the opportunity to generate new partnerships with other participants and to discuss current challenges facing international higher education.
Prior to the summit, UTM delegates led by Professor Dr. Durrishah Idrus, Deputy Vice-Chancellor (Student Affairs) and two representatives from UTM International, Professor Dr. Nor Haniza Sarmin, Associate Director (Global Strategy and Engagement) and Assoc. Professor Dr. Norhayati Abdullah, Associate Director (UTM International Kuala Lumpur) participated in the International Partner Week at Istanbul Aydin University (IAU) which was hosted by IAU under the auspices of the Erasmus+ program. Taking place at the beautiful IAU Florya Campus, the program served as a platform for sharing best practices in the internationalization of higher education. Professor Dr. Durrishah succinctly presented all the salient points on integrating international students into campus life while simultaneously sharing UTM students' experiences. The program concluded with a campus tour to the vibrant and inspiring campus vicinity.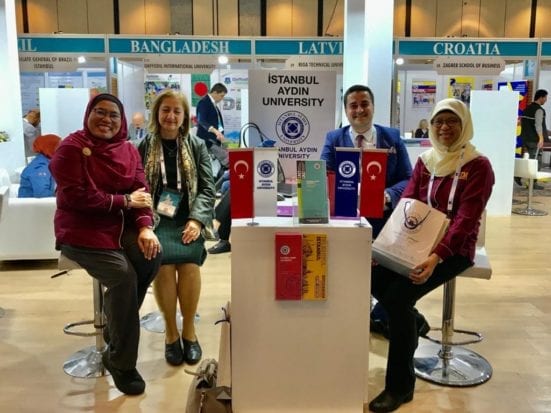 From the 56 featured sessions, Dr. Norhayati Abdullah (UTM), Dr. Syaheerah Lebai Lutfi (USM) and Dr. Hajah Zainab Mohd Noor (UiTM) took part in a special session themed as Around the World with EURIE: Malaysia. Dr. Norhayati presented a topic related to the gateway to an entrepreneurial society based on UTM success stories. Professor Dr. Nor Haniza represented UTM as one of the panelists in a session focusing on Alternative Forms of Internationalization with her presentation entitled "Internationalization with Capacity Building Programs and Projects: UTM Experience" alongside panels from Monash University, Australia and Middle East Technical University, Turkey. EURIE2020 brings together international education practitioners and experts from across the globe to the Eurasia region to network, improve professional skills and learn about new developments in international education.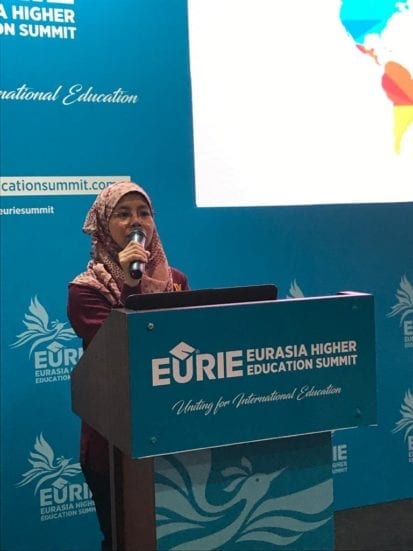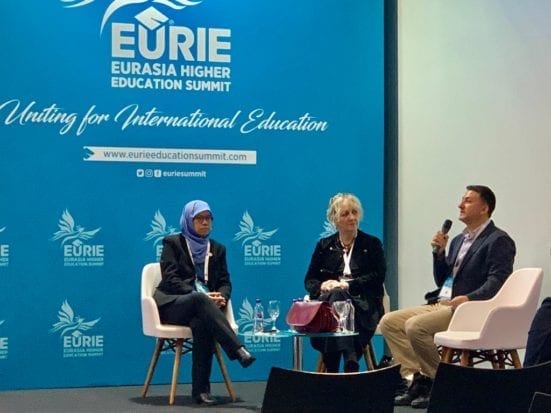 In a special meeting with representatives from 19 Turkish Universities, UTM expressed hopes to strengthen collaborative platforms with new and existing partners from Turkey whereby both institutions may create pro-active and sustainable partnerships in international higher education experiences.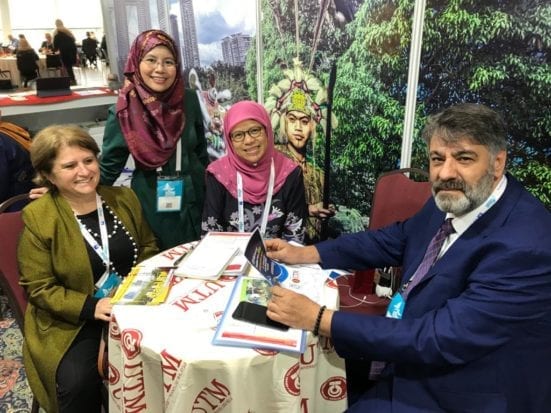 EURIE2020 also featured a concurrent International Entrepreneurship and Innovation Event: IMAGINE Tomorrow showcasing 30 award-winning innovative products by academic entrepreneurs worldwide.