SKUDAI – Universiti Teknologi Malaysia's (UTM) first-ever South Business Simulation Challenge 2020 was held from 1st of March 2020 until 3rd of March 2020. The programme was organised by UTM Centre for Student Innovation & Technology Entrepreneurship (UTM XCITE) in collaboration with Azman Hashim International Business School (AHIBS).
The programme involved a total of 25 participants from Public Higher Education Institutions in the southern part of Peninsular Malaysia namely UTM, Universiti Tun Hussein Onn Malaysia (UTHM), Universiti Teknologi Mara (UiTM), Universiti Teknologi Malaysia (UTEM) as well as Polytechnic Metro Johor Bahru in which participation from each institution is limited to 5 participants only.
SBSC 2020 used the MonsoonSIM, an award-winning business simulation and gamification education platform, as the core basis for the programme. The platform has been recognised by the Enterprise Resources Planning (Business) – SAP and has been used for business education in various universities around the globe since 2013. MonsoonSIM allows educators to change their teaching ways of business concepts and indirectly provides students with early exposure to numerous aspects of business processes.
The three-day programme took place at UTM Maker Space on its first two days and at Cyberpenuer Lab, AHIBS on its final day.  The first day of the programme covered few introductory activities such as the registration, briefings, and ice-breaking sessions.
On the second day, the programme was intensified whereby participants get to understand, train and experience all 12 modules of MonsoonSIM simulation in stages that were coached predominantly by Mr. Shafudin bin Mohd Yatim (AHIBS), Dr. Mohamad Shah bin Kassim (AHIBS), and Dr. Zulkifli Hamisan @ Khair (School of Human Resource Development & Psychology, (SHARPS). The coaches involved in the programme are highly certified, skillful, and have vast experiences in guiding UTM students for various national and international competitions since 2016 – 2018.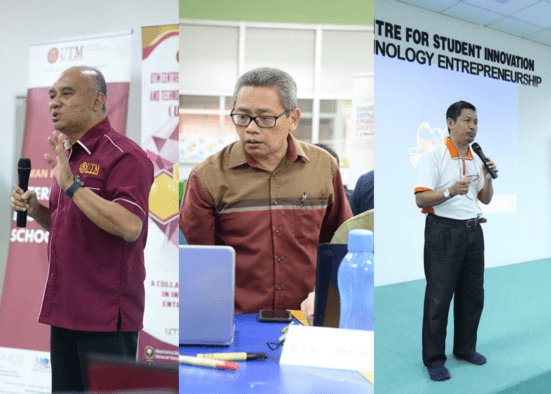 On the final day, the entire morning session was slotted for participants to practice on what they learnt the day prior. Then, two rounds of competitions were held in the afternoon where the teams were evaluated and positioned according to the average score from both rounds.
Tong Xin Jo, Ong Jia Eek, Muhammad Hafiz Faisal, Tan Lun Yong, and Lian Tat Xian (Team Explosion Z) from UTM won the first prize of the competition and brought home RM1,000, certificates of achievement, and a trophy. The second prize of RM700, certificates of achievement, and a trophy went to Team Tuah from Universiti Teknikal Melaka Malaysia (UTeM) while the third prize of RM500, certificates of achievement, and a trophy went to Team Gladiators from Universiti Teknologi MARA Johor Campus.
The consolation prizes for the competition went to Team Untouchables from Politeknik METrO Johor Bahru and Team Paritking from Universiti Tun Hussien Onn Malaysia, where both teams carried home RM300 and certificates of achievement.

All in all, the Southern Business Simulation Challenge 2020 was a success thanks to the mentors, organising committees, participants, and joint partners of SBSC 2020. The closing ceremony was attended and officiated by Dr. Noriza Mohd Jamal, the Director of Accounting and Finance Program of AHIBS and also attended by Mr. Muhammad Nabil Fikri bin Yahaya (Research Officer of UTM XCITE), Mr. Shafudin bin Mohd Yatim (senior lecturer and certified MonsonSIM trainer of AHIBS), and Dr. Zulkifli Hamisan @ Khair (senior lecturer of SHARPS).
Potential students who have been identified at the programme will be selected to become members of the team to represent their respective institutions at the national level, and further at the Southeast Asia level.