A UTM academician, Dr. Zulkifli Khair was invited as a keynote speaker for MonsoonSIM Users Conference in Penang on 18 January 2020. The conference served as a platform for sharing of experience about the implementation of MonsoonSIM in the higher education institutes (HEI) within Asia Pacific countries. This was the second conference organized by MonsoonSIM Academy after the first conference held in Bali, Indonesia last year.
Other keynote speakers who presented their sharing were Mr. Abdy Taminsyah, CEO & Founder of MonsoonSIM Pty Ltd (MonsoonSIM V8 Demo & Presentation and Rating System) and Dr. Choo Peng Yin, Deputy Dean, Faculty of ICT of Universiti Tunku Abdul Rahman (UTAR), Malaysia (MonsoonSIM Plus Plus).
The conference also invited Mr. Adi Suryaputra P, Chair of Information Systems School, Universitas Ciputra Surabaya, Indonesia (MonsoonSIM for Data Science & Technopreneurship Curriculum Development) and Sidharta Gunawan, Product Manager of MonsoonSIM Pty Ltd (MonsoonSIM V8 workshop and Data Analytics using Google Data Studio) as keynote speakers.
Dr. Zulkifli, Senior Lecturer of SHARPS, Faculty of Social Sciences and Humanity, UTM presented 'MonsoonSIM Creativity Challenge – The Game Changer'. MonsoonSIM is Enterprise Resources Management (ERM) games and simulations. He shared how MonsoonSIM has been implemented in teaching and learning as well as on its assessment and evaluation. Many kinds of literature recognised games and simulations in HEI giving a positive impact on critical thinking and communication skills, which comply with 21st Century Skills.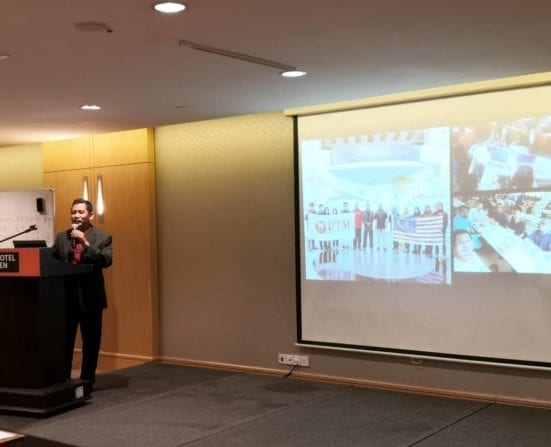 To assess 'playing games', two aspects were considered; scoring matrix (for competition) and KPI target. For the KPI target, group of students also known as the company in the simulation has to reach the following target which is the Cash on Hand (SGD5,000,000), Net Profit (SGD5,000,000), Sales Retail (SGD6,000,000), Sales Service (SGD600,000) and Utilization Retail Space (75%).
The other assessment involved personal reflection on MonsoonSIM,, general reflection on MonsoonSIM, reflection on critical (analysing and evaluating), and strategic thinking to win the games and achieve KPI targets. The assessment also involved the implementation of creative ideas to improve MonsoonSIM or innovative ideas to develop new simulation games by using creativity techniques and tools such as CoRT 1 by Edward de Bono, SCAMPER, 'What if…?' etc.
The conference also served as a platform to learn new version and development of MonsoonSIM, the only game and simulation that is recognized by SAP, the world market leader in enterprise application software. The participants also were introduced to implementing data analytics within MonsoonSIM through a few software such as Microsoft Power BI, Google Analytics, and Tableau Public. The 2020 International MonsoonSIM Competition will be held in Melbourne, Australia and UTM team is looking forward to winning the game.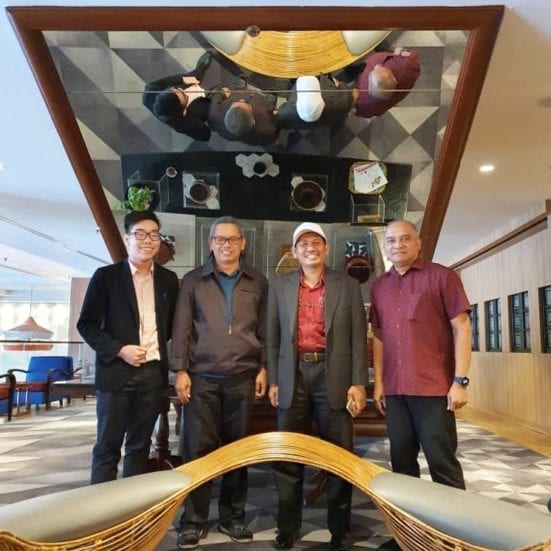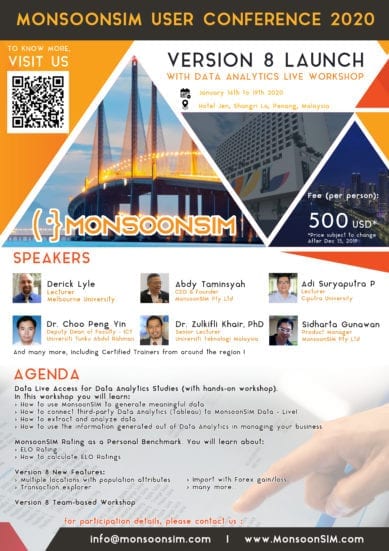 Prepared by: Azra Ayue Abdul Rahman and Zulkifli Khair