CHENNAI, INDIA: UTM Expert challenged the participants of World Engineering Education Forum (WEEF) 2020 to use problems as the starting point of learning.
WEEF 2019 is an annual prestigious platform to connect practitioners of engineering education with stakeholders, leaders, students, industry, governmental organizations, non-governmental organizations, etc. from all over the world.  Prof. Khairiyah Mohd Yusof and Dr. Nina Diana Nawi represented Universiti Teknologi Malaysia at this acclaimed engineering education event held on 15 Nov. 2019.
Prof Khairiyah Mohd Yusof, the Director of the Centre for Engineering Education, Universiti Teknologi Malaysia was invited to deliver a keynote speech in the Disruptive Teaching and Learning theme of WEEF 2019. Other keynote and plenary speakers included Dr. Michael Milligen (CEO of ABET), Xavier Fouger (Dassault Systemes, France), Dr. Tanya Mortan (Mathworks), Prof. Roger Hadgraft (University of Technology Sydney, Australia), Prof. Lisa Rooney (Dublin City University), Prof Sirin Tekaney (Sabanci University, Turkey and Chair of GEDC) and Dr. Tom Lee (Chief Education Officer, Quanser, Canada).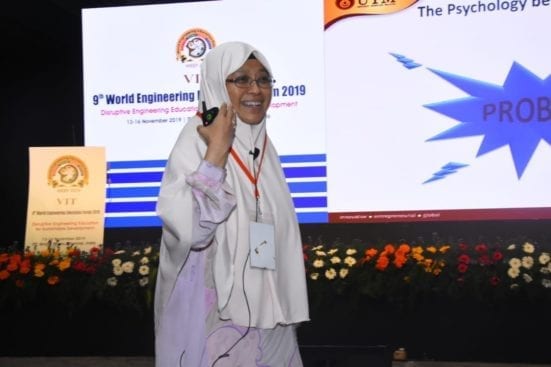 Prof. Khairiyah spoke on using problems at the initial point of learning new concepts instead of at the end to invoke curiosity and engagement in a typical classroom. In this world, problems are one of the many things that make us have sleepless nights. Amusingly, while problems can be troublesome because they are difficult to forget, they can also be harnessed to engage students in learning. In her keynote speech, she addressed the essence of problems that are required to engage students in meaningful, deep learning.
She emphasized that educators should use real-world problems to the students when learning new content or concepts, which can illustrate the gap in the students' knowledge. Depending on the intended outcomes, the problems can be real, or crafted realistically, ranging from simple to complex.  She provided various examples that can be used in a typical classroom, ranging from a simple problem on chlorine concentration in a swimming pool to complex engineering problems for designing control systems in the industry.
Dr. Michael K. J. Milligan, the Executive Director and Chief Executive Officer of Accreditation Board for Engineering and Technology (ABET) who were engaged with the keynote session said, 'She aptly pointed out that using problems brings out the natural way for humans to learn. It only makes sense to identify the need for learning first before the content. We should see the problem first and then we will see the need for learning.'
Prof Khairiyah, who is also a former Vice President of IFEES, was given the honor to present a token of appreciation to Dr. Mylswamy Annadurai, Indian Scientist, Vice President for Tamilnadu State Council for Science and Technology. The event received full support from their State Council.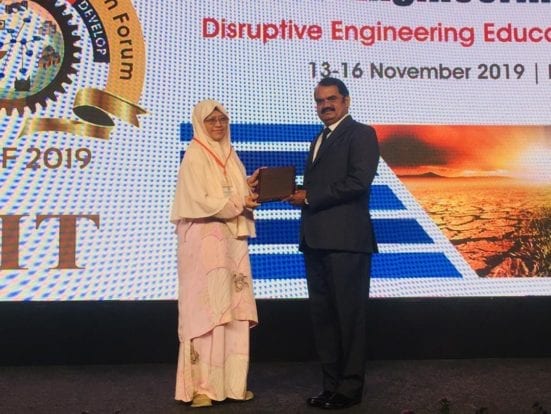 The UTM representations to the vibrant engineering education scene in India were then continued in the next conference, the Regional Research Symposium on Problem-based Learning (PBL) which was held back-to-back with WEEF 2019, in Hubbali, Karnataka from November 22-24, 2019 in collaboration with the Aalborg UNESCO Centre for PBL in Engineering Education and Sustainability. During the symposium, the UTM team conducted a workshop on Problem Crafting and Prof. Khairiyah delivered a keynote speech on systematically supporting faculty members in developing 21st century educators.
Prepared by: Dr. Nina Diana Nawi (School of Education, FSSH) and Prof. Dr. Khairiyah Mohd Yusof (Centre for Engineering Education)