Seoul, Korea –  It was an outstanding achievement for Advanced Membrane Technology Research Center (AMTEC) researchers when they won the Grand Prize and King Abdulaziz University Special Award at the Seoul International Invention Fair (SIIF) in Seoul, Korea, on 30 November 2019.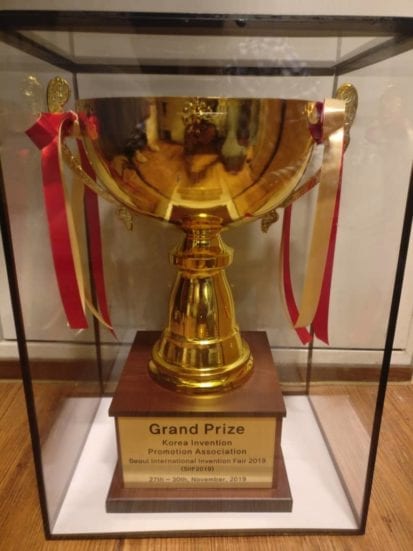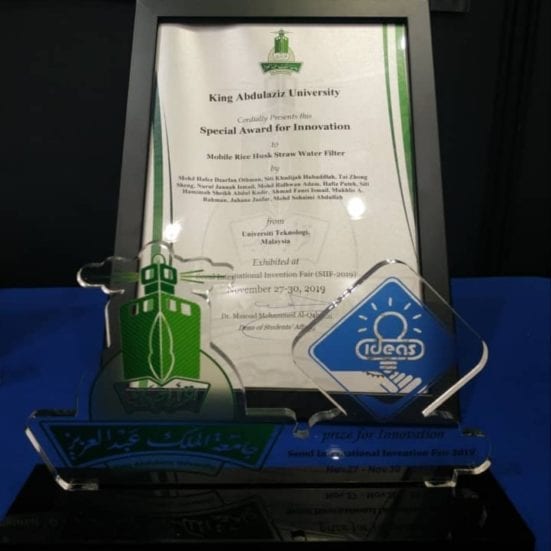 The team earned the Grand Prize for its research on 'A Newly Designed Hybrid Photocatalytic Nanofiber-coated Membrane (SOL-CLEAN MEMBRANE)'. Research leader Assoc. Prof. Dr. Juhana Jaafar said, "This award is for the effort of a great team work of this project. The newly developed membrane has proven to have an outstanding performance in treating organic pollutant in wastewater. It is strongly believed that this product could provide a beneficial impact to the related industries". She added, "SOL-CLEAN MEMBRANE is for industry, for living, for life."
Besides the award, AMTEC also won gold medal through the 'Mobile Rice Husk Straw Filter' project by Assoc. Prof Dr Mohd Hafiz Dzarfan. In addition, Dr Wan Norhayati Wan Salleh received silver medal through the "Innovative Hybrid Membrane Solar Driven for Contaminants Emerging Removal" project. AMTEC also won two bronze medals through the project led by Assoc. Prof. Dr Lau Woei Jye and Dr Norhaniza Yusof.
SIIF was hosted by the Korean Intellectual Property Office (KIPO) and organized by the Korea Invention Promotion Association (KIPA). The Seoul International Invention Fair was inaugurated in 2002 in order to market and to promote inventions. Currently under the patronage of the City of Seoul, the World Intellectual Property Organization (WIPO), and the International Federation of Inventors' Associations (IFIA) it has thus become an event where inventors and researchers from all over the world showcase new ideas and products to manufacturers, investors, distributors, licensing firms and the general public.
visit : https://amtec.utm.my/