Since 2017, UTM and National Hydraulic Research Institute of Malaysia (NAHRIM) have been working together to plan for a long-term resilience and natural disaster recovery especially on shoreline erosions. UTM has been given  full responsibility to propose a resiliency approach to promote risk reduction through erosion prevention and wave energy attenuation as well as funding from NAHRIM. This is where the idea with breakwater project came in. The main purpose of using breakwaters are to reduce the intensity of wave action in inshore waters and thereby reduce coastal erosion. Besides, breakwaters also contribute  to nearby sediment increment, mangrove rehabilitation and protection, reduce natural disaster risk such as tsunami, improve coastal marine habitat and boost fisherman's shoreline activities. Basically, the implementation of breakwaters on the coastal area gives huge beneficial impact to the community.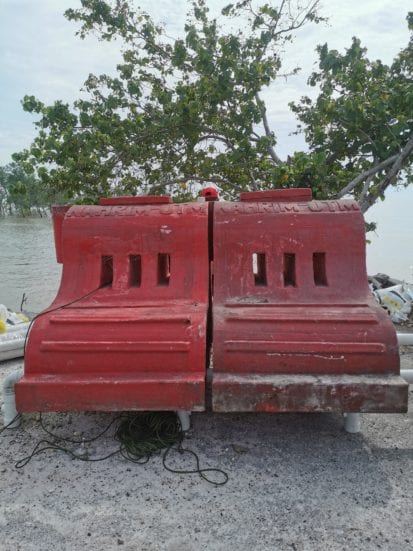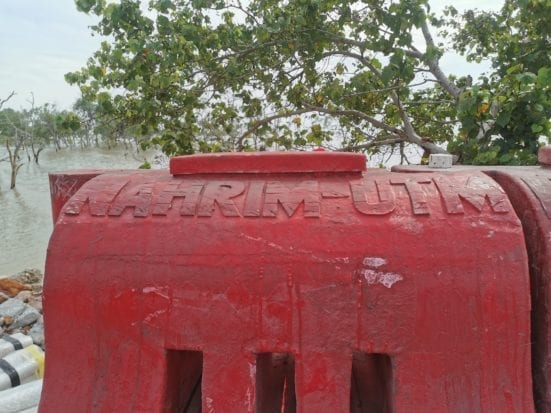 Given that most breakwaters consist of either rock or concrete or a mixture of both, our team decided to utilize the advantages of composites material. Our main goal is to apply these breakwaters without using heavy machines at the shoreline area that possibly damage the area. Therefore, the development of the breakwaters must be lightweight and man-powered installations have been uniquely designed by our team with specific functions.
Preliminary studies have been conducted at several beaches in Malaysia before Kelanang beach located at Banting, Selangor was selected. A detailed hydrographic survey and a geotechnical investigation on every listed beach have been conducted and the results showed that Kelanang beach is the most suitable location to install the breakwaters. The installation of the breakwaters at the beach (specific coordinate at 245'58.4"N, 10125'57.0"E) has been successfully conducted for 3 days from last 8th November 2019 until 10th November 2019. This project was  led by Ts. Dr. Mohamad Zaki Hassan. We hope that the breakwaters address the long-term shoreline erosion reduction to preserve the coast, prevent damage to the shoreline and nearby villages. This project is one of the examples of collaboration between the university and government agency to contribute back to the community.