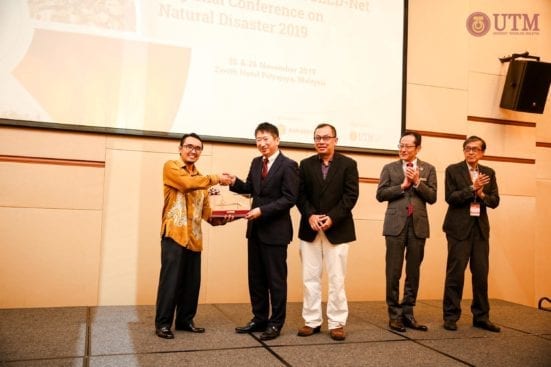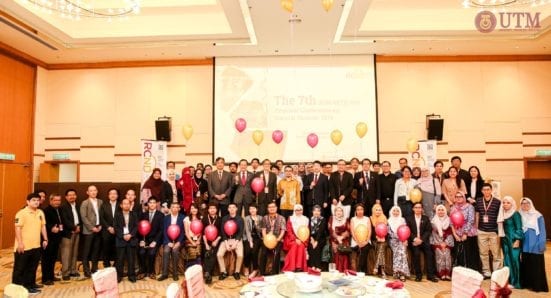 Putrajaya – Malaysia-Japan International Institute of Technology (MJIIT), Universiti Teknologi Malaysia (UTM) together with ASEAN University Network/Southeast Asia Engineering Education Development Network (AUN/SEED-Net) and Japan International Cooperation Agency (JICA) successfully hosted the 7th AUN/SEED-Net Regional Conference on Natural Disaster (RCND) 2019 from 25 – 26 November 2019 at Zenith Hotel, Putrajaya.
MJIIT, an international Faculty of UTM was proud to host the 7th AUN/SEED-Net RCND2019 which was a collaboration between MJIIT and sponsored by AUN/SEED-Net which was established since 2013. This conference marked the second time for MJIIT as RCND host following the previous RCND conference in 2016, held in Kuala Lumpur.
MJIIT was established in 2010 as a joint venture between the governments of Malaysia and Japan to offer Japanese-oriented education at UTM Kuala Lumpur. MJIIT collaborates with 29 Japanese University Consortium (JUC) and industries providing research-intensive approach of Japanese education.
Malaysia has experienced its fair share of climate-related disasters with floods as its major scourge, followed by dry spells, heat waves and haze. Having robust disaster management plans in place may help alleviate some of the negative effects of natural disasters due to continued increase in climate change. In these regards, RCND2019 served as a platform for knowledge sharing and technology transfer within the disaster field. In agreement with the theme Disaster Management for Resilience and Sustainability the conference aimed to strengthen collegial collaborations between academia, industry and government agencies related to disaster mitigation strategies.
MJIIT is honoured to announce that more than 80 participants representing the ASEAN region were selected to present their innovation and research findings related to the theme. A variety of topics were covered including disaster resilient community, disaster prevention and mitigation, disaster risk management and reduction, IoT in disaster management, early warning system, environmental sciences and many more. The foundations of resilience and sustainability for most disaster-prone cities lie in their preparedness and prevention measures in facing the natural vulnerabilities.
The conference was officiated over the conference dinner by Honorable Minister Kaname Araki, Japan Minister of Education to Malaysia, Mr. Saito Yuta, representative of Embassy of Japan to Malaysia, in the attendance of Professor Emeritus Dr. Ueda Tamon, Chief Advisor and Acting Executive Director of AUN/SEED-Net Secretariat, Mr. Kensuke Fukuwa, Chief Representative of JICA Malaysia, Assoc. Professor Dr Shahrum Shah Abdullah, MJIIT Deputy Dean (Research and Innovation) and Assoc. Professor Dr. Muhamad Ali Muhammad Yuzir, Chair of the 7th RCND2019.
Two keynote speakers, Professor Dr. Kaoru Takara from Graduate School of Advanced Integrated Studies (GSAIS) in Human Survivability, Kyoto University and Professor Dr. Junji Kiyono from Graduate School of Engineering, Kyoto University shared impressive knowledge and unique experiences in disaster preparedness and prevention during the keynote sessions. During the conference, AUN/SEED-Net representatives Ms. Kornnadda and Dr. Radianta introduced the AUN/SEED-Net programs and ASEAN Engineering Journal which highly benefited the participants as AUN/SEED-Net alumni. The promotional session also included an introduction to the Vietnam Japanese University (VJU) project by Dr. Nguyen Van Quang.  The conference concluded with a site visit to the Malaysia Meteorological Department (MetMalaysia).
Through the theme "Disaster Management for Resilience and Sustainability" this international conference was part of the continuing series of regional conference to provide a forum to collect and disseminate the most updated technology and research of regional issues and public interests in the field of Natural Disaster in order to contribute to the community and to draw support from the government and industry sectors. Therefore, this conference was an excellent platform to build network between researchers, students and industries towards sustainable and international research collaboration.
Prepared by Assoc. Prof. Dr Norhayati Abdullah
Associate Director, UTM International