On the 4th – 6th of October 2019, 33 UTM students participated in the National Chemical Engineering Symposium (NACES) 2019 that was held at Universiti Malaysia Pahang (UMP), Gambang Campus. This event was organized by the Chemical Engineering Student's Society (CHEST) UMP which comprised eight challenging yet insightful competitions, namely Plant Design Competition, Exhibition Competition, Technical Presentation Competition, Technical Case Study Competition, Technical Debate Competition, Technical Essay Writing Competition, Technical Video Competition and Chemical Engineering Challenge Competition.
This symposium provided a platform for Chemical Engineering students to nurture a culture of innovation and creativity for the sake of community. It also aimed to give an opportunity for the exchange of information and to promote discussion between students and people in the industry with regards to the industrial revolution in the field of Chemical Engineering.
The Institution of Chemical Engineers Student Chapter (SC-IChemE) UTM, previously known as AIChE UTM Student Chapter, is proud to report its participation in 7 out of 8 competitions, competing against 17 local and international universities.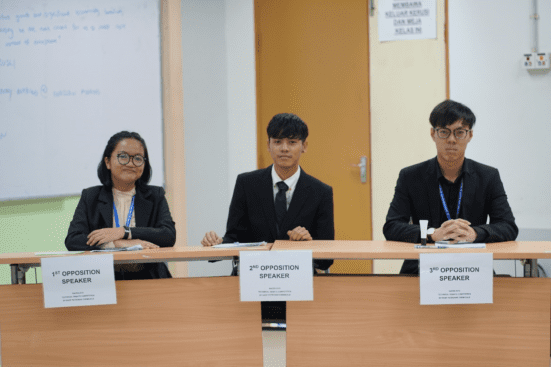 Technical Debate Competition Team (from left): Ivaine Jane Rusli, Mohd Mazdi Bin Jimmy Marino @ Mazlan Marino and Khor Shaw Zhan (4th place)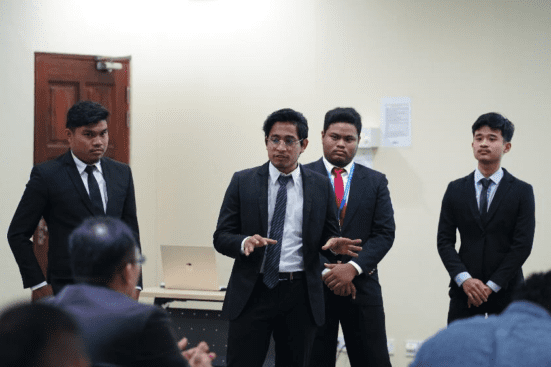 Technical Presentation Competition Team (from left): Muhammad Aeirffan Faizatul Ashrey, Adny Atiq Bin Hashim, Muhammad Hayqal bin Omar and Alif Azli Bin Azlan Choong
SC-IChemE UTM managed to win 1st place in Technical Video Competition and 2nd place for Chemical Engineering Challenge Competition. The winners of the Technical Video Competition included Mehedi Hasan (3SKTK), Muhammad Shahmi Asnawi Bin Alias (2SKTK), Nor Aina Sahira Binti Mohd Saifuddin (2SKTK) and Nurul Shuhada Shazline Binti Suzali (2SKTK). The winners of the Chemical Engineering Challenge Competition included Lim Kah Choon (4SKTK) and Tan Guan Ming (4SKTK). All 33 participants are students from the School of Chemical & Energy Engineering together with the student's society advisors, Ir. Dr. Lim Jeng Shiun and Dr. Nor Alafiza Yunus.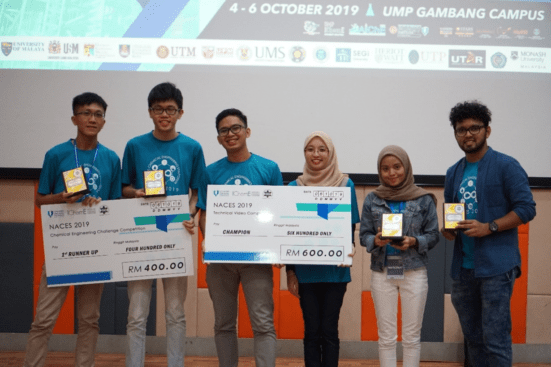 Winners of the Chemical Engineering Challenge Competition and Technical Video Competition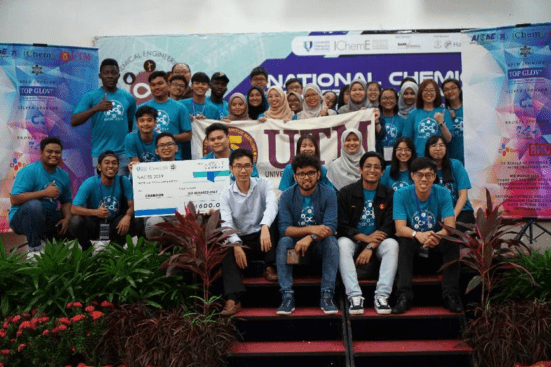 UTM Team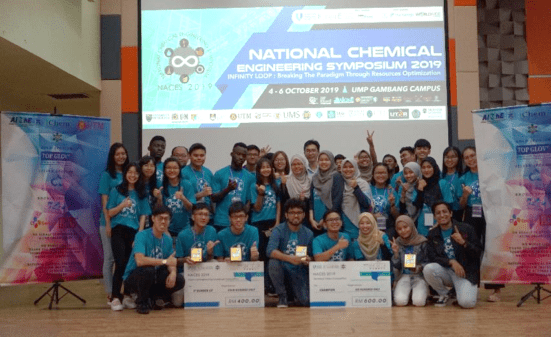 UTM Team
In the overall ranking of this event, SC-IChemE UTM was able to capture the 4th place. This is a huge achievement for SC-IChemE UTM, hoping to nurture the talents of our participants to become successful chemical engineers and to inspire others to do so as well.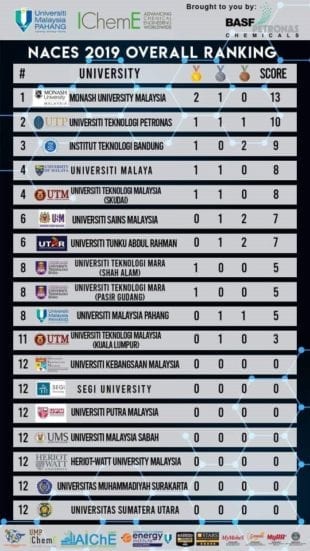 We would like to thank our sponsors for sponsoring us to participate in this highly reputable event. Our gold sponsor was Top Glove Sdn Bhd, silver sponsor was Care Luxury Hotels & Resorts and bronze sponsors comprised CJ Century Logistics Sdn Bhd, Rushoe Enterprises Sdn Bhd and RNC Technology (M) Sdn Bhd.

UTM Skudai is honoured to be given the opportunity to host this event next year. For NACES 2020, we are confident that our committee members are able to handle such a prestigious event and we really hope that this event will obtain an astounding amount of support from all universities locally and internationally.
Reported by:
Mr Nazmi bin Mohamed
Representative of UTM Delegates  for NACES 2019
3rd year Student of Chemical Engineering
Ir Dr Lim Jeng Shiun and Dr Nor Alafiza Yunos
Advisors of UTM Student Chapter of IChemE (SC-IChemE)