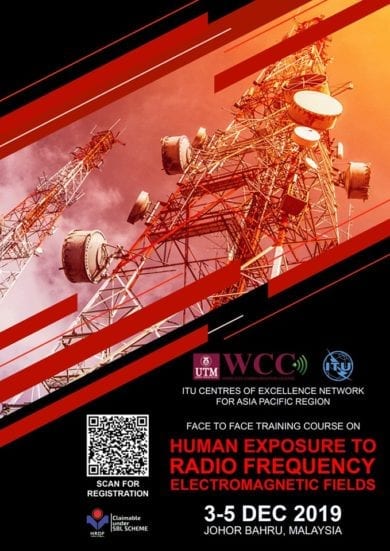 (HRDF Claimable just for local participants only)
14th August 2019: –  The International Telecommunication Union (ITU) has selected WCC to become one of its recognized CoE to conduct training in the area of Wireless and Fixed Broadband for the Asia-Pacific region. In its appointment letter, the ITU had highlighted the careful evaluation process in selecting WCC from a large number of application submissions, and thus, the selection was a monumental recognition of WCC researchers' expertise in the field of wireless telecommunication technologies. The selection also reflected WCC status as a high-quality ICT training provider.
In conjunction with this selection, WCC will be organising courses namely :
Human Exposure to Radio Frequency Electromagnetic Fields to be held in Johor Bahru, Malaysia from 03-05 December 2019. Please refer the attached venue information for participants.
This course aims to equip the participants with a multi-dimensional view of current and future technologies, from the perspective standard, regulation, policy, commercial, economy, social and environment. The course will equip the participants with fundamental understanding. These training courses are targeted at executives, managers, officials, engineers, employees from policy makers, regulators, government organisation, operators as well as academia who are dealing with the planning, developing, and implementation of wireless devices and networks.
For further information, please contact:
Dr. Bruce Leow (bruceleow@fke.utm.my)
Mrs. Jamaliah Salleh (jamaliah_s@utm.my)