| Nov 27, 2019 | Shahrin hashim , Azwan, School of Education, Faculty of Social Sciences and Humanities (FSSH),UTM
JOHOR BAHRU – 'Basikal Lajak' issue has become a concern among society recently. Many actions have been taken by many parties in overcoming this issue. UTM has played its role in initiating a module on safe cycling practice by having collaboration with many agencies including Iskandar Regional Development Authority (IRDA), Jabatan Pendidikan Negeri Johor (JPNJ), Lembaga Penduduk dan Pembangunan Keluarga Negara (LPPKN), Polis Diraja Malaysia (PDRM), Happy-Riders Connect and also the icon school, SK Taman Cahaya Masai.
The Launching of Safe Cycling Module was held on 16th November 2019 at Perbadanan Nuri, Flat Bandar Baru Kangar Pulai. This event was initiated by a team of Master's students and guided by Shahrin Hashim, the programme coordinator to build a safe cycling awareness for the community and at the same time preserve the environment through cycling activities. The "basikal lajak" has become a social issue in recent years, often proving a menace to other public road users and endangering their own lives by riding illegally modified bicycles to perform stunts.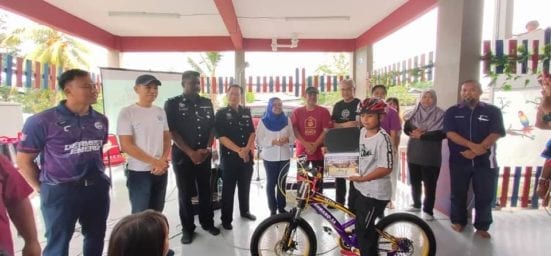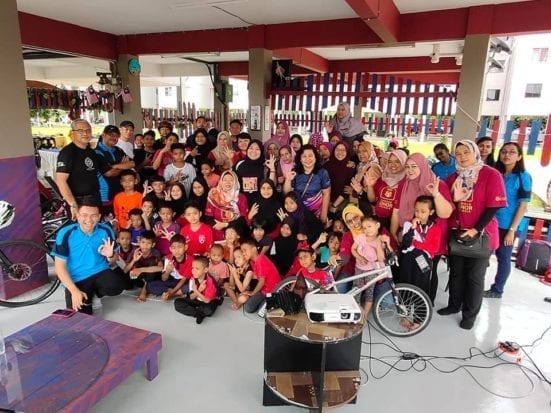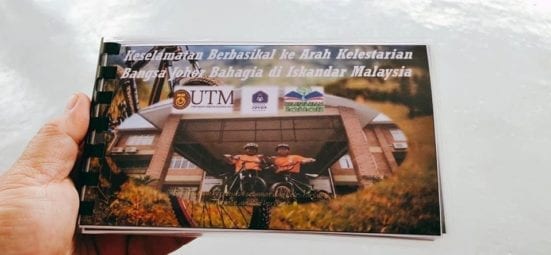 All strategic partners had contributed their expertise in producing this module. IRDA played their role in fostering the smart healthy city idea through the activity of cycling. Meanwhile, JPNJ contributed their authority and power in spreading the module to the 12 pilot schools in this project, specifically the neighbouring schools in Bandar Baru Kangkar Pulai. On the other hand, PDRM and also LPPKN channeled their roles in the law aspects to be included as one of the aspects discussed in the module. All ideas contributed by the strategic partners were assembled by a team of master's students from the School of Education, Faculty of Social Science and Humanity (FSSH) to be presented academically for the public benefits.
During the event, the module received an overwhelming support from the Kangar Pulai community. A total of 102 residents of Flat Kangar Pulai participated in the event including the attendance of the strategic partners. The event started with an aerobic session, followed by the talk from various departments regarding the "Basikal lajak" in educating them about road safety and also the low carbon society practices through cycling activity.
Assistant Commissioner of police David Chung reminded in the event, "The Royal Malaysian Police is an enforcement body. There is a mulling action under the Child Act against parents whose children are caught using modified bicycles."
The event was officially initiated by Cik Suhaily Bt Abd. Hamid, the Head Quality Living of IRDA. She stated that IRDA will always give their support to any efforts in producing sustaining community including this safe cycling project. She was expecting more events as such will be organised by UTM and other parties to give more awareness to the community about this issue.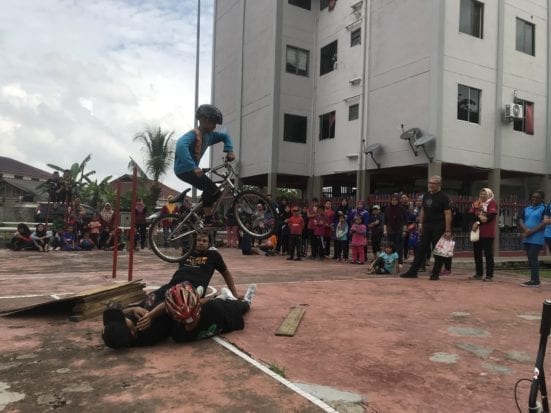 Various activities were held throughout the day. These included the demonstration by a team known as Happy Riders Connect on safe cycling using safety helmet, and having clear specifications and requirements for bicycles to be used on roads, and the protection for other road users. "UTM students really did a great job collaborating with many authorities in making this event a success" Shahrin said.
JPNJ gave their promise in making this module as the reference module to all Johor schools in the next term. UTM team together with all strategic partners will be called again for the next meeting in planning more efforts in spreading the idea of safe cycling. At the same time, SK Taman Cahaya Masai will be appointed as the model school in sharing their active efforts to overcome this issue. UTM will always give contribution in giving advice and educational input for the betterment of the community.