Johor Bahru, 22 Oct 2019 – The Assistant Dean (External & Global Engagement) of the Faculty of Social Sciences and Humanities, Dr Abdullah Mohd Nawi, received a courtesy visit today from Tn. Hj. Muhammad Fahmi Abd. Rahim and En. Mohd. Shakir Mohd. Salleh, officers from the Malaysian Examination Council, to discuss the ongoing implementation of the new CEFR-aligned Malaysian University English Test (MUET) throughout the country. Four experts from FSSH UTM were involved in the formulation and implementation of the new MUET examination, working hand in hand with the Malaysian Examination Council and Cambridge English:
Assoc. Prof. Dr Abdul Halim Abd Raof, Dr Abdullah Mohd Nawi, Assoc. Prof. Fatimah Puteh, and Dr Nor Liza Hj Ali.
The new MUET replaces the current examination format that has been in place since its inception in 1999, and adheres to an international standard that is aligned with the Common European Framework of Reference (CEFR), a common standard of ability of language that has been used all throughout Europe and different countries from other continents. Contrary to common misconception, the CEFR is not European standard English, which detractors contend would be detrimental to Malaysian students' proficiency levels. It is in fact a standard of ability that can be used to assess ability in any language, and can even be applied to Bahasa Malaysia.
After a long and arduous process since work on the new MUET began with a study in 2015 conducted by Cambridge English, the people responsible for the mighty IELTS examination, going through the processes of CEFR familiarisation to item writing to benchmarking carried out in Cambridge, the examination is currently undergoing its dissemination stage to familiarise teachers with the new format. This will culminate in the roll-out of the new examination in early 2021.
At every step of the way, the language experts from FSSH UTM, and select colleagues from other universities and education entities nationwide, would be intimately involved, assisting the Malaysian Examination Council in whatever capacity necessary.
The Faculty of Social Sciences and Humanities is constantly looking for ways to deliver value to society with its brand promise – Educating & Humanizing.
The new MUET specifications can be downloaded here.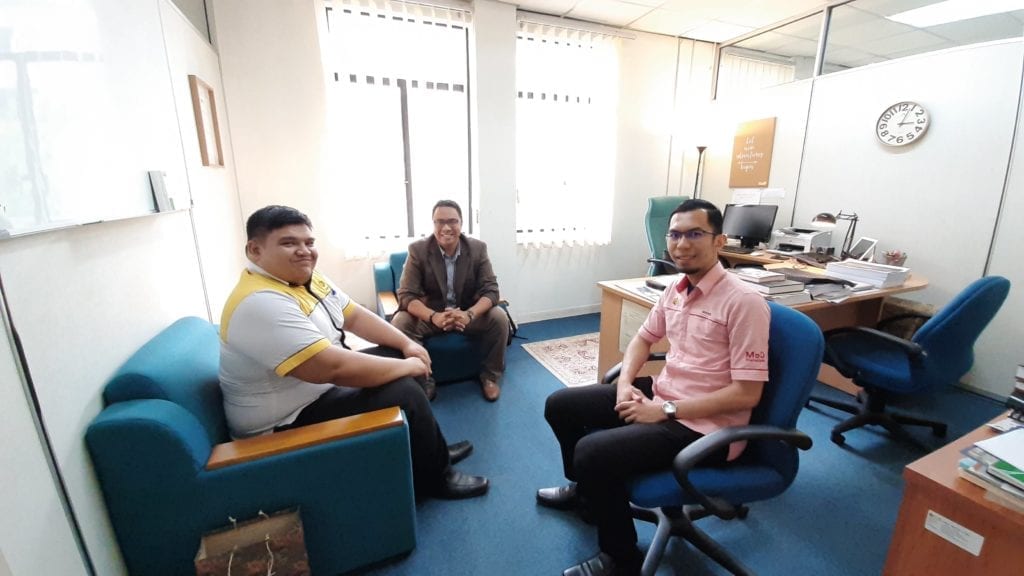 From left: Tn. Hj. Muhammad Fahmi Abd. Rahim, Dr. Abdullah Mohd Nawi,  En. Mohd. Shakir Mohd. Salleh.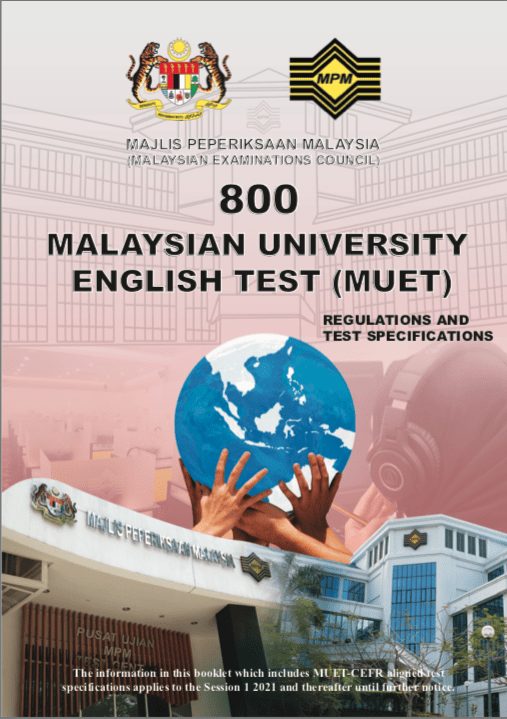 The cover of the new MUET regulations and test specifications
Prepared by
Abdullah Mohd Nawi, Assistant Dean (External & Global Engagement)
Faculty of Social Sciences & Humanities
UTM