KUALA LUMPUR,  September 2019 – A Google Cloud Study Jam was held on Thursday, 26th September 2019 at Menara Razak, Universiti Teknologi Malaysia (UTM) Kuala Lumpur. This study jam was organised by the Razak Faculty of Technology and Informatics, UTM Kuala Lumpur in collaboration with AirAsia Bhd. and Google.
A total of 105 undergraduate and postgraduate students participated in the event in which 36 of them were students from the School of Computing, UTM Skudai. Due to a high turn up from students and interactive hands-on sessions, the event was divided into  morning and afternoon sessions. Two experts from Google came down to UTM KL to run this event.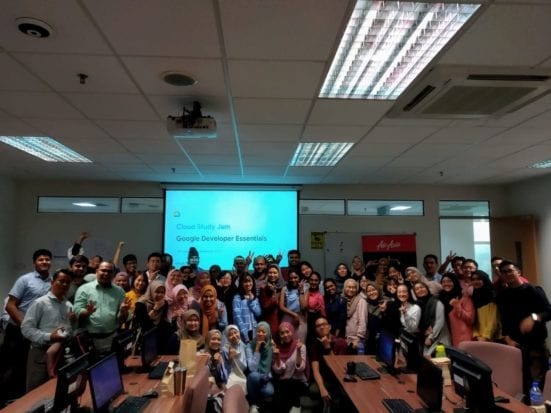 The event offers a great opportunity to bring students together to get a first-hand experience with Google Cloud experts and allows them to acquire specific skills that they can use for personal development or career advancement. A quick Air Asia blurb enlightened the students with the Air Asia working environment and culture that encouraged final year students to become part of their family through internship or as a full-time staff. Currently, Air Asia is on the look out to recruit awesome minds from UTM in the area of Software Engineering and Data Science. The Razak faculty strongly believes that the existing programmes offered at their school are in line with the industry's needs and are able to fulfil the requirements and expectations of big companies such as Air Asia.  
With the Cloud Study Jam, students get the opportunity to learn the fundamental tools and capabilities of Google Cloud Platform (GCP). Students were also exposed to Google Developer Essentials, Machine Learning, and Data Science skills.
Each of the student was eligible to get free access to:
Qwiklabs Quest for one month (worth USD55)
Google Cloud Badge from Qwiklabs on completion of codelabs
Hands-on experience on GCP
Upgrade their skills in Machine Learning, Data Science, and GCP Technology
Career opportunity with AirAsia Bhd.
The Razak faculty is very positive that this event has created a win-win situation in which students experienced trending and sought after skills first hand while simultaneously provided Air Asia the opportunity to meet their potential employees. It is hoped that further academia-industry collaboration of this kind will help to keep the Razak faculty programmes attractive and relevant in the market and to increase student employability apart from to assist and provide the best talent to the industry.