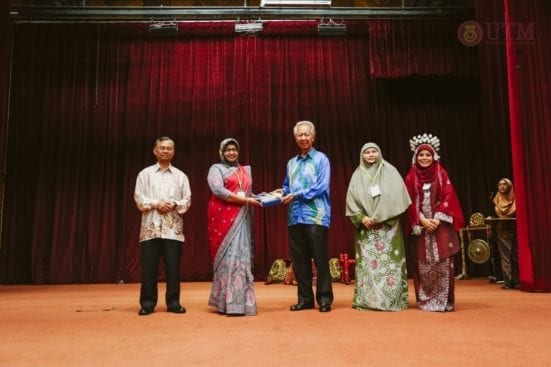 Jameela Hanoon Umarlebbe proudly representing Sri Lanka at ICD2019
KUALA LUMPUR, 4 October 2019 – I am Jameela Hanoon Umarlebbe, a PhD student of the Faculty of Social Sciences and Humanities (FSSH), UTM Kuala Lumpur (UTMKL). I am delighted to share my experience and that of my colleagues who participated in International Cultural Day 2019 at UTM Kuala Lumpur campus on 2nd October 2019.
This joint effort between FSSH and UTMi was an excellent initiative in a university where there is a large number of international postgraduate students. Celebrating different cultures and diversity makes us culturally aware and enables us to accept, appreciate and respect each other's culture. This sort of co-curricular activity helps not only the students but also the staff tremendously by breaking the monotony of the same type tasks.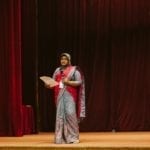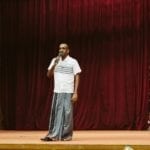 Seven countries – Japan, Sudan, Indonesia, Nigeria, Iraq, Sri Lanka as well as Malaysia volunteered to be the pioneers of the first International Cultural Day. It was a one-day programme, and the morning was packed with a variety of performances from the above-mentioned countries. In spite of currently being the only student from Sri Lanka in UTMKL, I still wanted my country to be represented at this great ICD 2019 event. I invited a friend of mine from UTM JB (Manjula Wickramathilaka) and another student (Ansaf Ahamed) who is in his internship training. Having only three members, we gave our all and performed two individual items: a love song in Sinhala sang by a boy calling his girlfriend to go with him around the beautiful island, and a poem in English titled "Ode to Sri Lanka". The other countries entertained the audience with several group performances. The hit of the show was a memorable mock wedding ceremony performed by the Sudanese students.
Dewan Tan Sri Ainuddin Wahid, UTMKL was filled with approximately one thousand people on the day. By either side of the Hall, there were country booths set for exhibition. The end of the  performances marked the beginning of the spectacularly day-long exhibition.
Sri Lankan booth was the first one that the distinguished guests visited, and the exhibition was declared open in the Sri Lankan booth with the lighting of Oil Lamp by Yang Berbahagia Tan Sri Abdul Halim Ali (Chairman – UTM Board of Directors), Prof. Dr Shamsul Sahibuddin (Pro-Vice-Chancellor, UTM Kuala Lumpur Campus), Director of ICD 2019 Assoc. Prof. Dr Sarimah Shamsudin (Director-FSSH, UTMKL) and Associate Director of ICD 2019, Assoc. Prof. Dr Norhayati Abdullah (Director-International Students Centre, UTMKL), and the Delegates from Embassies of participating nations.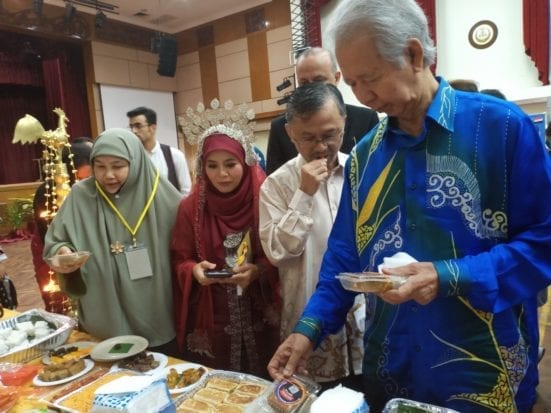 Book-corner (publications on Sri Lanka, its culture and traditions, history and tourism), Food-corner (mouthwatering Sri Lankan spicy cuisine), Tea-corner (seven special varieties of Ceylon tea excluding any sort of flavoured tea like mint-tea, ginger-tea, masala-tea etc.) along with "Try me out" sets of traditional costumes of different communities in the island for any visitors who fancied seeing themselves clad in Sri Lankan saree and traditional gear, and  a replica of small and cottage industry products such as wood-carvings, handicrafts, artisans and handlooms were offered as an interactive experience for visitors. In addition, Sri Lankan booth also set up a Mehendi (Henna)-corner which was a hit among the ladies.
Let me share a few remarks jotted down in a visitor's book available at Sri Lankan booth.
"Nice to meet you all. It looks so great. Hope to visit Sri Lanka one day" – Gizem Kayar, an exchange student from Turkey.
"Great work! Nice booth and very nice traditional clothes!" – Sahar Abdallah, Sudan.
"Seems like a very good country to go backpacking, will definitely visit one day" – Ariff from Malaysia.
"Nice food, nice people and nice traditions." – Mujeeb from Bangladesh.
"I found the SriLankan booth organiser and her team well organised. I admire their hospitality and friendliness!" – Sarfraz Hussain from Pakistan.
"Sri Lanka has captured my heart, with their unique culture, food and of course — the people. Wishing to go there one fine day." – Fatin Nasyitah, Administrative assistant at UTM Kuala Lumpur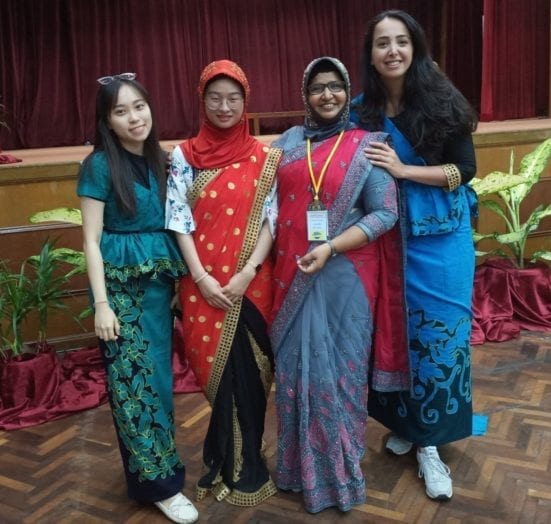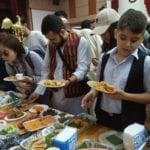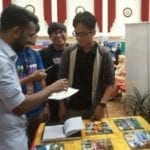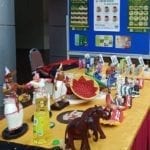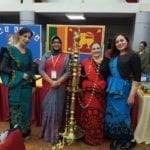 The international students from seven countries actively joined hands to celebrate our similarities and differences, and the entire university witnessed it. The following are a few feedbacks from the student representatives from some country booths on ICD-2019:
Amrul Faruq – Indonesia:
"Hopefully, with the first successful event, this event will be the most awaited event every year by UTMKL academics, students, lecturers and staff.
Rasheed Bisi Owolewa – Nigeria:
"ICD has opened our eyes to another phase of learning that is life in different cultures.  We learnt, we related, networked and presented ourselves in our own unique cultural ways".
Ali Salman Hummadi – Iraq:
ICD2019 has been inscribed as one of the unforgettable days in the memory of all international and domestic students. This specific event provided a chance for all to deepen their understanding of the amazing diversity of the students' cultures. It has brought us together to share and respect each country's values, heritage and traditions.
Dr Intisar Ibrahim – Sudan:
"The event was very interesting. Participants got opportunity to know about cultural diversity. It prompted for teamwork, network, exchange of experience, and love among the students, lecturers and visitors. During this event, a good relationship among booth participants was successfully established. It was wonderful experience".
At the first attempt per se, ICD 2019 has achieved immeasurable success.
My special thanks go to Dr. Seriaznita Binti Mat Said who helped us throughout the entire programme, and all other committee members for being a part of our happiness and success!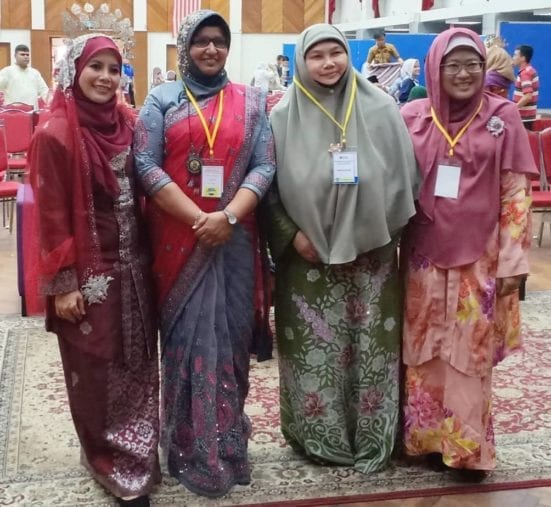 Prepared by Jameela Hanoon Umarlebbe and Dr Seriaznita bt Haji Mat Said