On Sunday, 13 November 2019, Free Food coupons were distributed to 42 less fortunate students of AHIBS by our Deputy Dean of Academic, Assoc. Prof. Dr. Ahmad Jusoh. This event took place at Lecture Hall 1 during lunch hour.
The Free Food initiative for students had already started since last semester, and it benefited 30 less fortunate students. A team consisted of lecturers and staff from AHIBS, had conducted fundraising among AHIBS faculty members and collected RM6,430. The donation was part of the AHIBS Social Responsibility project, which is in line with UTM effort in cultivating the culture of giving and creating a more loving and caring society towards the less fortunate.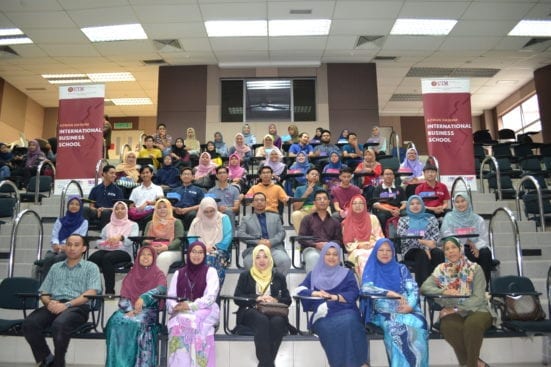 This time Free Food has gone green by providing reusable plastic container for students to use when they claimed the coupons.  This was to support the No Single Use Plastic Bags campaign conducted in UTM.
The project was regarded as an eye opener to the fact that there are still many less fortunate students who need some care and helping hand in order to move forward in life. The Free Food team would like to thank all the generous donors for making this project a success!
We welcome donations to help our students.
AHIBS Free Food Task Force :  Dr. Siti Zaleha Omain, PM Dr. Norhayati Zakwan, Dr. Ruzita Selamat, Puan Sariati Azman, Dr. Norhamimah Mastor, Dr. Nor Zafir Md Salleh and En. Azizol Amin.