A signing ceremony between SMARTUAL AI Learning Sdn Bhd and School of Education for online content development for K12 Education (OCEAN) Project was held on 21st July 2019 at Seminar Room, School of Education with the value of the project amounting RM 86,940 for the duration of 5 months.
SMARTUAL is actually an intelligent online education platform comprising 6 different phases remains as a standalone online education platform that is universal, incorporating all types of subjects to ensure that SMARTUAL provides the avenue for students. It is a collaborative platform that provides enhancement tools for teachers to create interactive content as well as to provide students with links from different parts of the world. With the application of this project at School of Education, UTM, students will have access to the offline content in the application in the form of tablet and students can update the content once they are connected to the internet. SMARTUAL also prepares assessment questions in which students can have repetitive learning which enhancing their learning experiences.
The representative from SMARTUAL AI Learning Sdn Bhd, Mr David Cheng expressed his joy for the opportunity to collaborate with UTM in his speech. Then, the ceremony was continued with the speech from Dr Nurbiha A. Shukor, the project leader from School of Education and Prof Datuk Dr. Ahmad Fauzi bin Ismail, the Deputy Vice-Chancellor Research and Innovation. After the signing ceremony, Smartual AI Learning Sdn Bhd presented a demonstration.
In this project, we have a series of workshops to help AI Smartual Learning with their online content development which involves the content development for Year 1 until Year 6 based on KSSR syllabus, for English, Maths, Bahasa Melayu and Science Subjects.  We also designed the digital content for this project, to make it interesting, fun and interactive for the students to use the system. The assessment part will also be included at the end of the learning session for the students to assess their understanding.
There are 12 other lecturers who have been working hard to make this collaboration turns into reality, they are lecturers from School of Education who have been the backbone of the project headed by Dr Nurbiha A Shukor:
Assoc Prof Dr Mahani Mokhtar
Dr Noor Dayana Abd Halim
Dr Nor Hasniza Ibrahim
Dr Norah Md Noor
Dr Norasykin Zaid
Dr Norazrena Abu Samah
Dr Dayana Farzeeha Ali
Dr Nor Nazira Suhairom
Pn Marlina Ali
Pn Awis Rumaisya from Language Academy
Pn Shazwani from Language Academy
Hopefully, this collaboration can be beneficial for not only the two sides who tied an agreement but also to the students of School of Education, especially.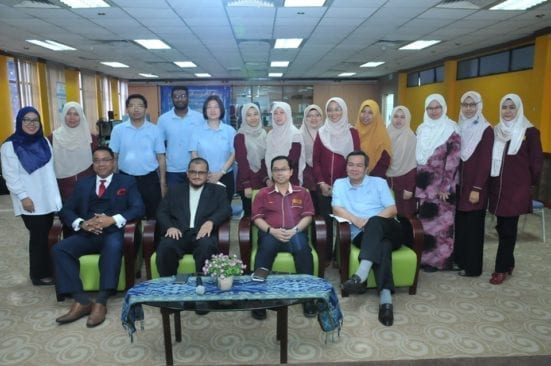 The management team from UTM, SMARTUAL and the members of OCEAN Project.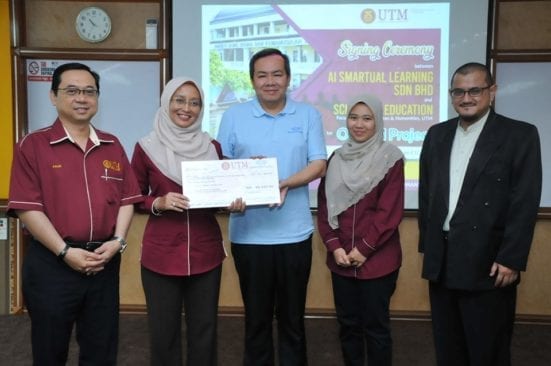 Mr David handing over a cheque of RM 86,940.00 to the representative from UTM.
Authors: Dr Nurbiha A. Shukor and Dr Norasykin Mohd Zaid