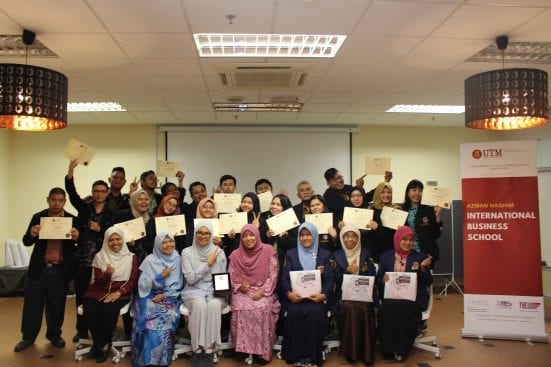 August 22nd, 2019 – Azman Hashim International Business School (AHIBS) warmly welcomed delegates from the Department of Accountancy, Sekolah Tinggi Ilmu Ekonomi Indonesia (STEI), Jakarta for their International Academic Visit.
A total of 19 students of Masters of Accountancy, who are in their second year, took the opportunity to gain an international immersion experience with AHIBS as part of their curriculum requirement. The whole-day affair was packed with learning activities consisting of:
• Campus tour (Led by Ms. Dilla from UTM International)
• Introduction on UTM and AHIBS (By: AP Dr. Rossilah Jamil)
• Knowledge sharing session on Article Writing and Journal Publication (Speaker: Dr. Nor Aiza Mohd. Zamil)
• Presentation and feedback session on research proposals (Panel of Reviewers: AP Dr. Siti Zaleha Abd Rasid & Dr. Zarina Abdul Salam). Seven proposals were presented by the students to the panels on accounting and finance topics.
• Knowledge sharing session on Postgraduate Education in 4IR (Speaker: AP Dr. Rohaida Basiruddin)
• Collaboration discussion between AHIBS and STEI. 
AHIBS is excited to receive them again next year for their annual mobility visit. Both parties are looking forward to extending this relationship to other areas, that may include PhD supervision, conference and research grants.
STEI delegates were led by Dr. Lies Zulfiati with Dr. Rimi Gusliana and Mdm. Flourien Nurul Chusnah.