The end of the semester marked the end of the international exchange and research internship program at UTM. Through countless activities, months felt like mere minutes and moments are left as fond memories. Therefore, on 16 May 2019, UTM International held an Iftar Ramadan and Farewell Dinner at Banquet Hall, Sultan Ibrahim Chancellery Building as a sign of appreciation towards exchange and research internship students.
The event commenced at 6.30pm, with registrations and iftar immediately after. Associate Director of Student Services & Global Education Experience, Prof. Dr. Nor Haniza Sarmin, in her speech, expressed her hopes that all mobility students went back to their home countries with nothing but positive experiences from their time in UTM. She confessed that she knows many students feel reluctant to return but assured them that they will always be welcome at UTM, whether it be in an academic capacity or even as visitors.
Following that were three performances by UTM Global Buddies and exchange and research internship students, namely, a Seasons in the Sun sing-along, Puteri Santubong and Zapin. Next, there were games, where each table chose three representatives to play. The games were held in relay, with each player taking turns to complete the task. The first game was building a tower of cups. With six cups given, the players must build a tower based on the design shown by the game-master. The second game was eating cookies placed on their forehead without using their hands. Chaos ensued, with  multitude funny faces and frantic movements being employed in the quest to consume their cookies.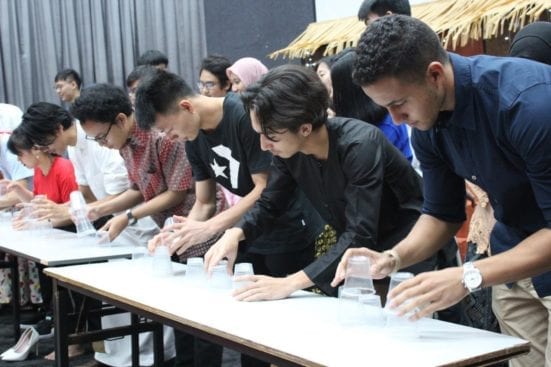 "When I'm gone
When I'm gone
You're gonna miss me when I'm gone"
Before the events of the night were wrapped up, a few students from different countries were invited to share their experiences during their stay in UTM. This included Karen from The Philippines, who expressed how happy she was at UTM, where there were many supportive local students who helped her adapt to new surroundings and discoveries. A student from Egypt, who was quite sheepish about being honest about his feelings, could only manage a heartfelt thank you to UTM for giving him a chance to study overseas, even for a short time. Last but not least, Robin from Switzerland shared his experience on fasting inUTM. He confessed that it was not as difficult as he expected and considered it more as eating an early breakfast and only eating again come nightfall. Robin also had the chance to join the iftar congregation at the UTM mosque.
Truly, the end is never the goal, but the end is where the goal is met. The untimely ending of the event was heralded by the certificate-giving ceremony to commemorate not only the mobility students, but also the Global Buddies who assisted in programs and with mobility students' personal issues. The end of the event, hence the end of the international exchange and research internship program for this semester, was solidified by a group photo.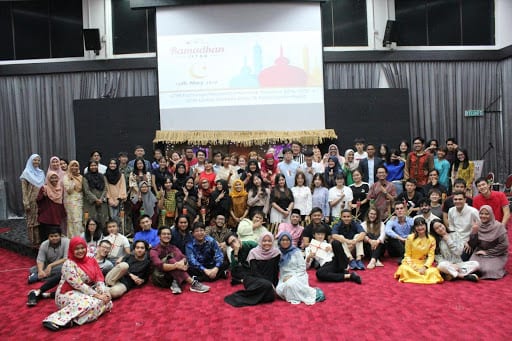 Pictured here is a big, happy family that transcends oceans and land
To all our exchange, internship and international students, we invite you to come back any time. The door is always open for you!
Yours Sincerely,
Prof. Dr. Nor Haniza Sarmin (Associate Director);
Assoc. Prof. Dr. Mohd Ariffin Abu Hassan (Manager (Student Experience));
Fasihah Mohd Jaslan (Manager (Inbound Mobility));
Student Services & Global Educational Experience,
UTM International