KUALA LUMPUR, 22 April 2019 – A total of 105 Bachelor Degree students from Fakultas Ilmu Komputer (Fasilkom Unilak), Riau, Indonesia paid a visit to Universiti Teknologi Malaysia Kuala Lumpur campus. Fasilkom was created in 2006 after 24 years of establishment of Universitas Lancang Kuning and it has two major programmes offered namely Information Technology and Information System.
Accompanied by their Dean and (9) lecturers, the students were welcomed by the Director of Advance Informatics; Assoc. Prof. Dr. Mohd Shahidan Abdullah, Assoc Prof. Dr. Nor Zairah Ab Rahim and Dr. Sa'ardin Abdul Aziz from Razak Faculty of Technology & Informatics (FTIR) as the host of the visit.
The students and lecturers were presented with information on UTM and introduced to the academic programs available at FTIR. An active question and answer session took place between Fasilkom and UTM after that.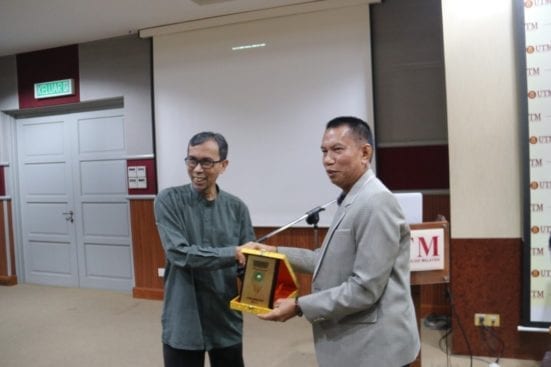 Assoc. Prof. Dr. Mohd Shahidan Abdullah received the souvenir from Dean of Fasilkom; H. Fadjrizal SP. M.Kom
There was a proposal to sign the LoC, and both faculties will plan to conduct initial activity as a start. If everything went on as planned, FTIR will be the owner of the agreement.
It is hoped that the visit will benefit students and lecturers and UTM always provides everyone with opportunities to pursue their studies at UTM.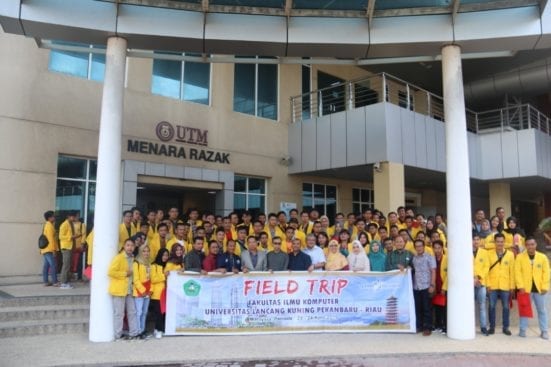 The visit was concluded with a group photo as memento