Kuala Lumpur, May 2019 – Prof. Dr. Yoshiyuki Yamashita; Director of International Student Exchange Program and Assoc. Prof. Kayo Yokomori from Advancement of Education and Global Learning took the opportunity to visit MJIIT and Kuala Lumpur campus on 3rd May 2019. The delegation was welcomed by the MJIIT team known for close friendship and active cooperation with TUAT over the years.
Active discussion took place during the 2-hour meeting which focused on mobility and internationalization activities.
In the coming semester, MJIIT will host 2 students from TUAT to participate in the exchange program for one semester and followed by the Internship Training which will be handled by TUAT at the end of their semester.
In addition, TUAT will host three students from MJIIT under the auspices of the ASEAN International Mobility for students (AIMS program) starting September 2019. During the visit, delegations from TUAT were impressed with the high number of applications received for the AIMS program.
MJIIT also was trying to seek opportunities to send over 20 UG students to undergo Global Mobility Program (GMP) for 2-3 weeks in TUAT. The program is expected to commence in February 2020 involving 1 credit transfer for General Courses. TUAT may propose course-based or lab-based program content or both to MJIIT.
Meanwhile, Assoc. Prof. Kayo was briefed on accommodation options provided at UTM, on-campus health center and student pass period to allow internship opportunities at selected companies as part of the exchange program at UTM KL campus.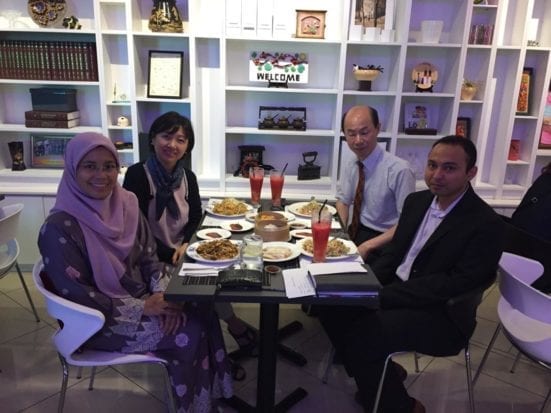 Dr. Norhayati had the pleasure in showing our guests from TUAT the newly launched Residensi UTM Kuala Lumpur and introduced amenities being provided for international guests. The meeting concluded with lunch at eat@level6 with Dr. Noor Fawazi Md. Noor Rudin, International Liaison Coordinator of MJIIT, UTM Kuala Lumpur.