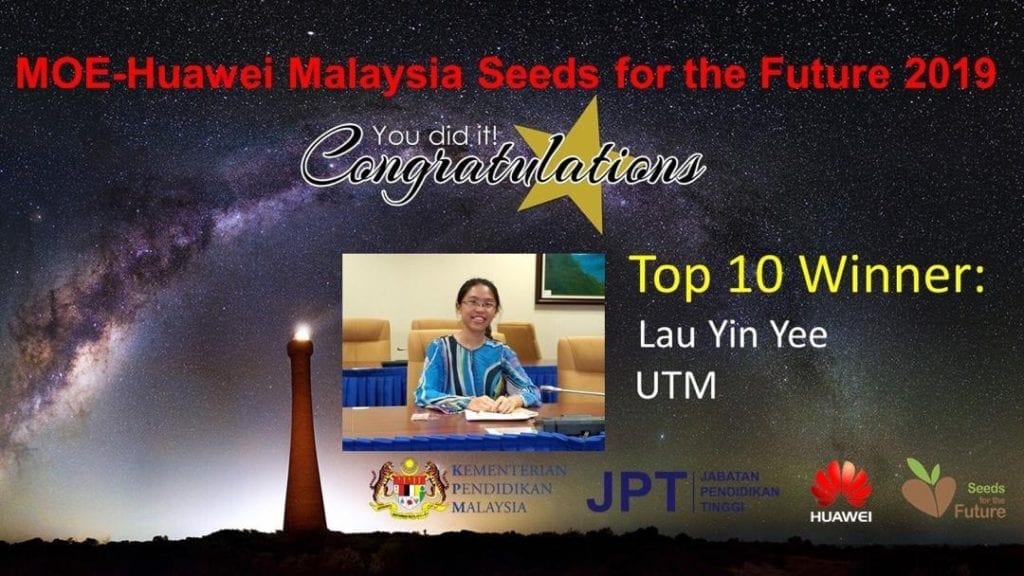 Congratulations to Lau Yin Yee from School of Computing, Faculty of Engineering for being selected as the Top 10 Finalists for the MOE-Huawei Seeds for the Future Program 2019.
Huawei Seeds For The Future is a global CSR flagship program initiated in 2008. Starting from 2014, Huaweihas  cooperated with Ministry of Education Malaysia (MOE) to develop local ICT talent, enhance knowledge transfer, promote a greater understanding of and interest in the telecommunications sector, and improve and encourage regional building and participation in the digital community.
Over the past 5 years, a total of 76 Malaysian university students have joined this internationally acclaimed program. The participants are given an opportunity to be fully immersed into Huawei global business operations, cross-cultural work practices and Chinese culture. Besides, students will get an opportunity to learn the latest ICT Technology from Huawei, which can boost their future career prospects as well as GE.
In 2019, Top 30 Finalists were selected from 19 universities with a total of 1,912 students participating in Seeds Talk 2019. On 24th May 2019, Top 30 Finalists were invited to attend the Top 30 Finalists Award Ceremony and Final Interview Session which was  held at MOE Putrajaya.
Top 10 Malaysian university students will be selected for the program and they will be leaving for China on 28 June till 13 July 2019 . In China, the students will undergo an intensive one week cultural and language awareness training in Beijing, followed by a week-long intensive ICT training at Huawei HQ in Shenzhen.