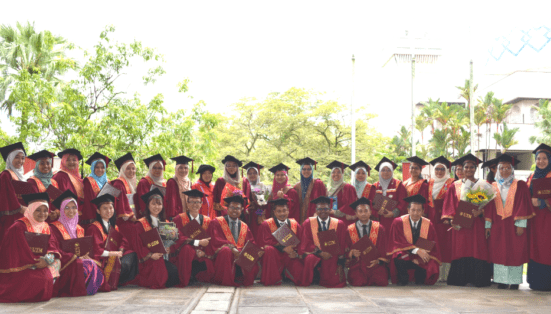 The Universiti Teknologi Malaysia (UTM) 62nd Convocation ceremony on 29th April 2019 marked a memorable event for 25 doctors and medical practitioners from the Jabatan Kesihatan Negeri, Negeri Sembilan (JKNNS), who successfully completed their MBA program, concentration in Healthcare Management offered by the UTM Azman Hashim International Business School (AHIBS). Three students, namely Datin Dr. Harlina bt. Abdul Rashid, Dr. Rosmala bt. Mohamad and Dr. Hatijah bt. Mohd Tan, received Best Postgraduate Students award by UTM School of Graduate Studies in conjunction with the convocation.
This batch of graduates was an outcome of an MoU signed between JKNNS and UTM (AHIBS) on August 14th, 2017, an initiative of Dato' Dr. Zainudin bin Mohd. Ali, the Health Director of JKNNS. Under the agreement, AHIBS will provide a customized, off-shore MBA program in a modular setting.
The inaugural batch of MBA (HCM) graduates from JKNNS consisted of the department's top talents who hold managerial positions in healthcare facilities throughout the state. Now armed with knowledge and skills acquired through AHIBS MBA, they possess an added advantage to play more strategic roles in their workplace.
Following the success of the first batch of JKNNS, UTM AHIBS continues to be the preferred management education provider of JKNNS when the state healthcare department signed up for another batch of MBA (HCM). Other than JKNNS, AHIBS MBA is also offered to professionals in healthcare departments in other states including Melaka, Perlis, Johor, and Putrajaya.
Story by: Rohaida Basiruddin