JOHOR BAHRU – For the first time ever, students from the Faculty of Built Environment and Surveying (FABU) with the collaboration of 8 societies and Students Representative Council of FABU managed to organize a sports day of the faculty on 22nd March 2019. The event, Faculty of Built Environment & Surveying Sports 2019 (FABEST'19) was held at Kolej Rahman Putra and Kolej Tun Fatimah during the day, and at the main foyer of FABU in the evening.
The purpose of the event was to develop a sturdier relationship between the students and the Student Representative Council along with the staff of the faculty. This event was held to also give an active lifestyle for students besides their studies in class and bedrooms. Thus, the students had an enjoyable time towards the end of the day. The program had accomplished the objective of promoting a good communication between the societies and student representative council of the faculty.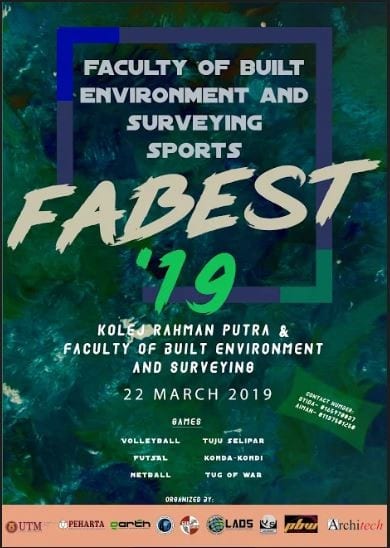 The program was marked open by the Director of the program, Muhammad Khaidir bin Hamid before any games and sports could be started at Kolej Rahman Putra. About 372 students were involved including the crew. There were 6 games being contested including volleyball, netball, futsal, 'konda-kondi', 'tuju selipar', and tug of war. The games were a combination between the traditional games from the last program of Built Environment students, ERAT 2017 and the sports event for Real Estate students, SUFiGHT 2017.
The night event then was officiated by Prof. Ts. Dr. Mohd Hamdan Bin Haji Ahmad, Dean of the Faculty of Built Environment & Surveying. The program was also attended by Mr. Nurul Amrie Bin Abdullah, Senior Assistant Registrar of Undergraduate and Mr. Abd Haris Bin Ismail, Senior IT Officer. The night was enlivened by the performances of delegates from every society in the faculty. There were also marks given for every stall decoration manned by every club and association.
After all the performances and points were given, the Dean of the faculty and the staff continued giving the prizes for the winners before the event ended. It was such a good day to be remembered from all the students and staff of the faculty. FABEST'19 had given an impact for communication amongst the people in the faculty. The overall champion had been awarded to Persatuan Mahasiswa Perancangan Bandar dan Wilayah (PEWIBAWA) due to their victory in most of the games they participated.