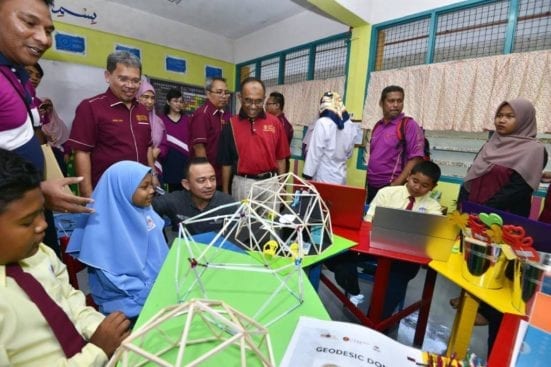 KOTA TINGGI, 13 Apr– School of Education, Faculty of Social Sciences and Humanities (FSSH) was involved in the launch of Service Learning Malaysia-University for Society (SULAM) in Pulau Tanjung Surat, Kota Tinggi. The Minister of Education, Dr. Maszlee Malik officiated SULAM and in his speech he has praised the noble efforts of UTM in producing holistic graduates by engaging them in helping the local community. A total of three lecturers and 10 students from the School of Education participated in the preparation of the 21st Century Learning classrooms project at Sekolah Kebangsaan Tanjung Surat, Kota Tinggi under the SULAM programme. The activities conducted by the School of Education has caught the attention of educators and the community who witnessed the transformation of traditional classroom learning to a condusive atmosphere inclusive of STREAM (Science, Technology, Religion, Engineering, Arts, and Mathematics).
SULAM combines learning objectives with community service and aims to relate theory and practice by solving real problems in the community. The foundations of SULAM are Love, Happiness and Mutual Respect and is an initiative of the Ministry of Education, Malaysia. The main objective of SULAM is to enable students to contribute to the community by applying knowledge and skills learned in the classroom to help solve local problems.
According to Shahrin Hashim, a Senior Lecturer from the School of Education, FSSH  and also an expert in Service Learning, 'School of Education is the ideal contributor to SULAM as very year we receive recognition because we have helped to cultivate, improve facilities and lead many schools and communities to be examples to the society. School of Education has also received awards at local and national levels as a result of the combined efforts by the students and staff in service learning'. He added, "Service learning projects have been conducted and coordinated by the School of Education since 2008. We have now entered the stage of being a role model to other faculties in UTM and several Public Universities (UA) in Malaysia. The implementation of Service Learning by the School of Education in various locations have also brought together byproducts of active learning communities such as Kelab Suka Belajar, Kelab Inspirasi Jaya Remaja, International Service Learning and much more.
On the 27th of April, a total of 99 students and three lecturers from the School of Education will carry out the Smart Exploration through Learning and Appreciating our beautiful Malaysia (SELAM '19)  in Pulau Tioman. This is also a full service learning program and is expected to be impactful to the local community there.
By Jamilah Ahmad, Norulhuda Ismail, Shahrin Hashim and  Nor Hasniza Ibrahim