It is a common courtesy for Malaysians to welcome visitors with arms wide open. Thus, we celebrated the arrival of new mobility students by throwing them a joyous party.
This special event was designed as a platform for introduction and interaction between mobility and local students in a fun setting. It provided opportunity not only for the mobility students to interact with local students, but also with other newcomers and visitors. The event would also see that the mobility students be introduced to their Buddies- local students appointed as their personal companion during their stay. Ultimately, we want to ensure a wholesome experience at UTM by cultivating a friendly environment among all students.
On 15 February 2019, mobility students and selected local students gathered at Dewan Astana, Kolej Tuanku Canselor for a day of fun activities to kick start the visitors' time at UTM on a high. To keep things casual, we decided on "Denim & Diamonds" as the theme for this welcoming party – nothing too fancy but still retaining grandeur. Our party started off with a warm welcoming speech by the Manager of Student Experience, Assoc. Prof. Dr. Mohd Ariffin Abu Hassan. Next was the introduction for UTM Global Buddies by Ms. Fasihah Jaslan, Manager for International Mobility. She explained who they are and how they work. Then, she instructed all students to pair with their assigned Buddies, taking the time to also mingle with other students.
Next up was the performance of the Sofia dance by the Buddies themselves, a dance routine accompanied by the song Sofia by Alvaro Soler. After the routine was finished, the Buddies transformed the entire hall into a dance floor, teaching their new international friends the dance routine before dancing together afterwards. The Sofia dance will be our main routine for performances at upcoming events.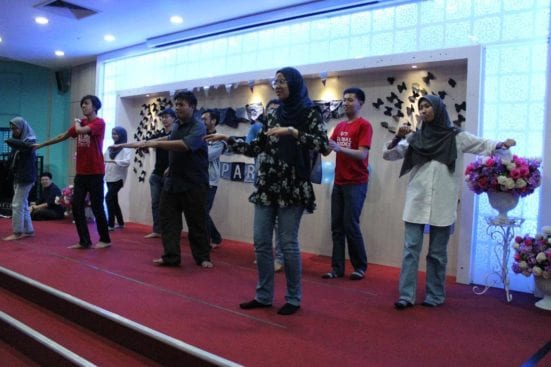 Dancing is good exercise and serves well as a memorable start to the party
Then, we reached the climax of the party, as it was time for games! Two classic party games were put on the table, or rather on the floor, where we played Charades and Musical Chairs.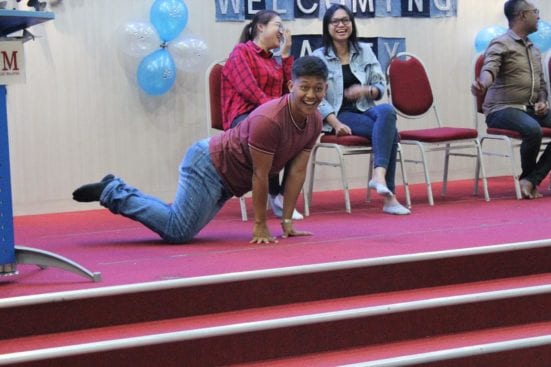 Klyde never fails to impress everyone with his impression of a mermaid princess
After points were accrued and joyful tears wept, a prize-giving ceremony was held to reward those who gave it their all. The end of the party was marked by a group photo to commemorate a great start to our new friends' lives at UTM.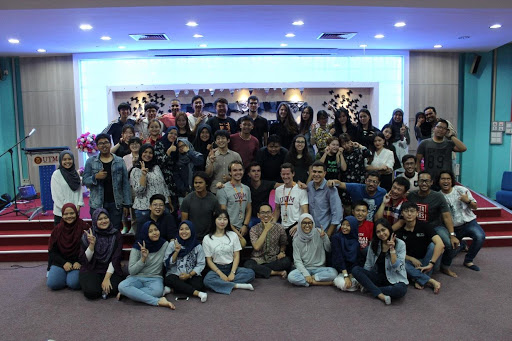 A picture of a happy family here at UTM
We hope that the bonds created during the event will further strengthen beyond the confines of the venue and that our friends will join us again in upcoming events for more unforgettable memories together.
Sincerely,
UTM International team