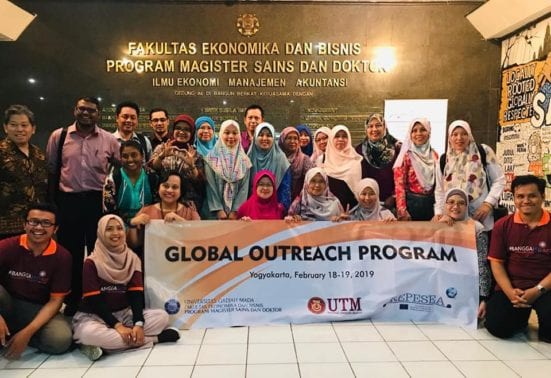 Azman Hashim International Business School (AHIBS) and the Faculty of Economics and Business, Universitas Gadjah Mada (FEB UGM) have joint effort to  conduct a Global Outreach Program.
The 2-day academic visit (February 18 – 19 2019) was participated by our first cohort of medical doctors, Jabatan Kesihatan Negeri, Negeri Sembilan (JKNNS) which was accompanied by the AHIBS Deputy Dean Academic & Student Affairs, Assoc. Prof. Dr. Rohaida,  Assoc. Prof. Dr. Siti Zaleha and Assoc. Prof. Dr. Nomahaza. In general, this program aims to develop AHIBS students to be sensitive to global changes. In addition,  it also aims to enhance students to think in innovative manner and act progressively for the betterment of the nation upon graduating from UTM programs.
The participants were welcomed by Prof Dr. Catur Sugiyanto,  Director of Master of Science & Doctoral Prog. in Economics, and Dr. Tur Nastiti, Manager for Academic Student Affairs & Cooperation of Master of Science & Doctoral in Management. A briefing and introductory session on UTM and AHIBS in general was conducted by Assoc. Prof. Dr. Rohaida followed by a knowledge sharing session.  "Indonesia Health Reform: Implementation of IR 4.0 in Healthcare Management", and "The Implementation of Casemix and Health Insurance Models in Indonesian Hospitals" were the two topics explored by Prof. Dr. Laksono Trisnantoro, M.Sc., Ph.D. from the Faculty of Medical UGM. The session was conducted in a very interactive way in which the students also shared their experiences in the Malaysian Healthcare context.
The second day of the program was held at UGM Academic Hospital (RSA) where Dr. Arief Budiyanto, Ph.D., Sp.KK (K), who is the director of the RSA UGM and Dr. Elisbeth Siti Herini, Sp.A (K) shared and discussed their experiences in the Indonesian healthcare system.  The exciting session has engaged the students' active participation.
Story by: Nomahaza Mahadi