UTM XCITE had organized a two-day program on 22nd and 23rd of February 2019 that includea a workshop and hackathon. The program aimed to teach 39 participants from UTM unique marketing skills and branding solution tool by using Lens Studio, a software developed by Snap Inc.  The program was supported from Snap Inc. who also owned Snapchat, the popular social media platform.
The aim of the program was to nurture creative heads in UTM in entrepreneurship skills. The workshop also taught the application of AR in the industry where the aim was to help them see the correlation and opportunities that they can benefit from using the skills.
The workshop was divided into two sessions, the Lens Studio training in the morning followed by Business Model Canvas and Value Proposition Canvas in the afternoon. The morning session was handled by two of our UTM Alumni. Their Startup company, ExAR Technologies has only been dabbling in the technology for about a year, but has been crowned as the only Snapchat's Official Lens Creator in Asia. The founders, Eswaran Mohan, an alumnus from Faculty of Engineering and Renuga Nair, from Faculty of Science, taught the participants how to use Lens Studio to create their very own AR Snapchat Lens that can be used with the Snapchat applications and their applicability as branding and marketing tool.
The second session was led by Dr Umar Haiyat, the deputy director of UTM XCITE (Entreprenurship Unit) along with Dr. Adaviah Binti Mas'od and Dr. Zuraidah Sulaiman both from Azman Hashim International Business School (AHIBS). They introduced the concept of Business Model Canvas and focused on Value Proposition Canvas to help them tackle the problem for the hackathon next day whereby the participants had to help create a branding and marketing solution for Nescafe UTM to improve their branding awareness among UTM-ians.
The hackathon started promptly the next day where all the participants were placed in groups and started working on their solutions and products in which they had to present and demonstrate their creation in front of the judges. Dr Farhan Mohamed (Deputy Director Corporate Affairs), Mr Shukry Radzi (Chief Business Development Officer) from Gini Technologies and Mr Chin Chia Yuan (Director) from Nescafe UTM were appointed as judges and shared their expertise with our participants.
The winners won cash prizes of RM 700, RM 500 and RM 300 respectively along with special discount cards provided by Nescafe UTM and an opportunity to have their products as part of Nescafe UTM marketing tools.  Maxfort team won first place, was made up of Azwad Abid (Leader, School of Electrical Engineering),  Muhammad Razzi (School of Electrical Engineering), Mohammad Yeasin Al Fahad (School of Computing) and Tanvir Ahmed Mehedi (School of Computing). Team Snapcher was made up of Khoo Pei Kiat (Leader), Tok Wei Xin, Bayes Ahmed Shoharto, Ng Jia Ying and Siti Zulhusna binti Zulkefli took second place while the third place was won by a group of first year students  made up of Quah Jin Xing (Leader), Ooi Kah Jun, Ong Wei Han, Beh Jian Xian and Kevin Chin Kai Sian.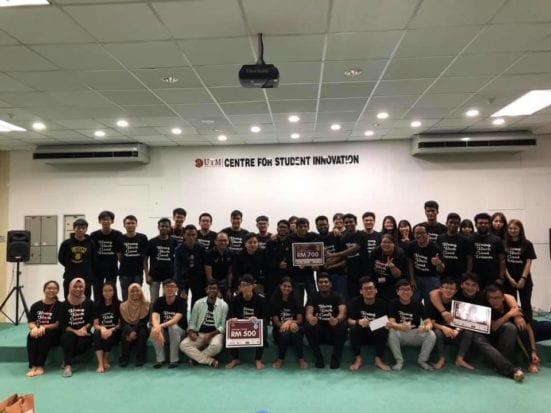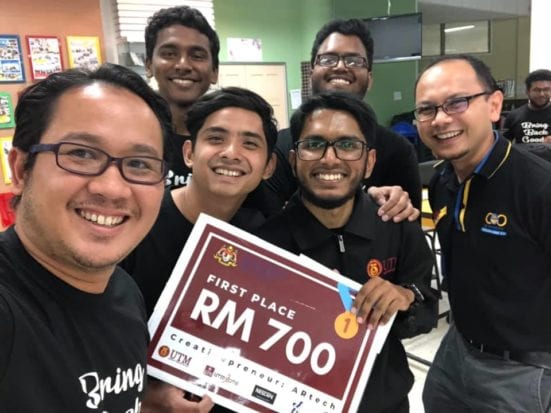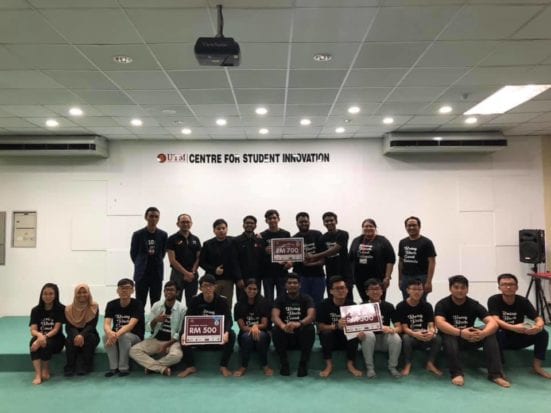 The Creativeprenuer: ARtech Program is among many other initiatives by UTM XCITE to help the UTM communities and students to explore other opportunities in entrepreneurship and technology to help them strive forward into a global and entrepreneurial entity.
by Farah Zaini: