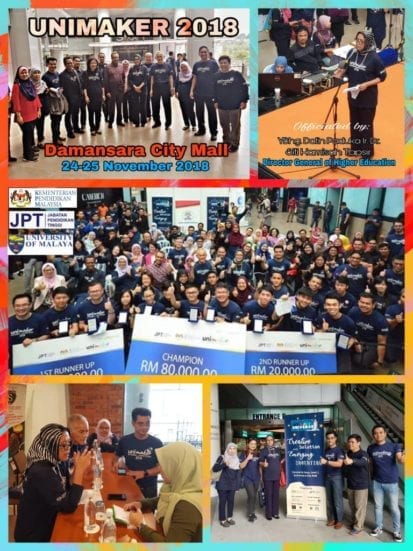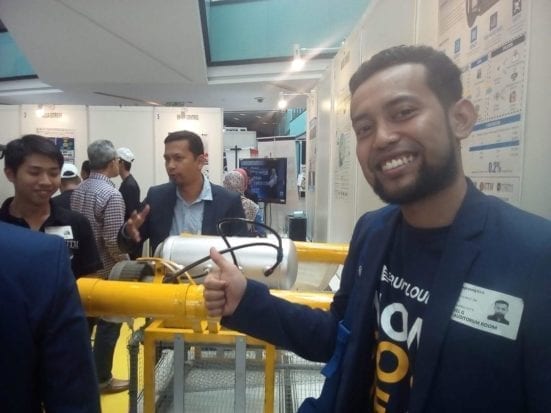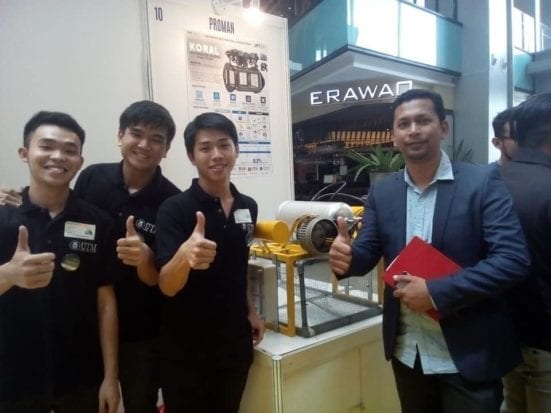 Skudai – Universiti Teknologi Malaysia (UTM) team won 2nd Runner-up in the national UniMAKER MAKEATHON Challenge competition, winning RM20,000 of cash prizes, trophy and certificates, listed alongside other astounding winners from USM, with the project entitled 'Precision Farming with Deep Learning and IoT' (Top winner, RM80,000) and 'Making Malaysian Roads Safe Again' (1st Runner-up, RM50,000).
The event was held from 24th to 25th November 2018, at Damansara City Mall (DCM) Concourse Area & Hong Leong Tower Auditorium, bringing up the aspiration of stimulating collaborative synergy amongst creative thinkers and innovators of various backgrounds of expertise from 32 participating universities, more than 1,000 high quality and innovative entries that promote innovative solution of encountered problems from various field of market. Organized by the Ministry of Education, Malaysia, the highlighted 4th Industrial Revolution (4IR) theme thrived the objective of synergizing physical, digital and biological applications through the participation and nurturing a new and sustainable "Makers" movement in Malaysia.
Ng Ting Sheng, Bryan Chua Seck How, and Chan Chen Lam from the UTM School of Mechanical Engineering, Faculty of Engineering, mentored by a group of business specialist from the UTM Centre for Student Innovation & Technology Entrepreneurship (UTM XCITE), had a great experience of synergy with the product called the 'Automated Guided Fish Trap (Bubu)', invented by Dr. Kamarulafizam Bin Ismail, from a researcher from the same school and faculty. This product is said to alleviate fishing activities within the coastal areas of less than 8 nautical miles.
Currently undergoing the final prototype development stage under the Prototype Development Fund Program facilitated by the Innovation and Commercialization Centre (ICC), this product is hoped to be another commercially viable research products for the country. Visit the UniMAKER MAKEATHON Challenge homepage for further information: http://www.unimaker.my
/ Department of Deputy Vice-Chancellor (Academic and International)
/ Department of Deputy Vice-Chancellor (Research and Innovation)