KUALA LUMPUR, 4 Dec. – Big congratulations to Nescafé UTM for winning the 3rd Place in the Nescafe Youth Entrepreneurship Programme (NYEP) Awards 2018!
The team members comprised 20 students from cross-faculties at UTM who managed the whole operations themselves including kiosk opening, kiosk services, products and marketing.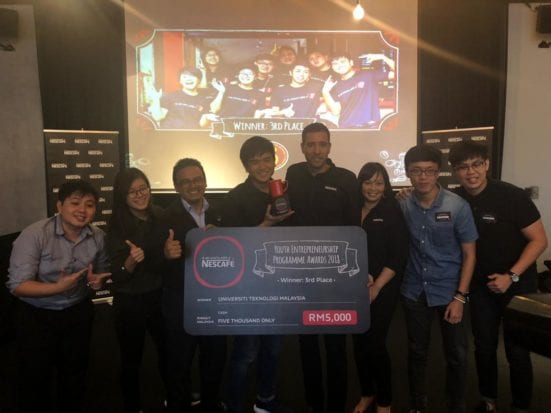 They were guided and supported by UTM XCITE – UTM Centre for Student Innovation and Technology Entrepreneurship, an entrepreneurship centre in UTM that helps young aspiring entrepreneurs achieve their goals.
After only starting their operations for 4 months, the team won the overall third place in the Nescafe Youth Entrepreneurship programme and received a cash prize of RM5000 as a reward for their effort and passion in business.
The event was attended by team leader Bryan Chua from the School of Mechanical Engineering along with Chin Chia Yuan (Azman Hashim International Business School), Eileen Khiu (Faculty of Built Environment and Surveying), and Adrian Tay and Kean Hong (School of Civil Engineering)
The team was also accompanied by the Director of UTM XCITE, Assoc. Prof. Dr. Mohd Zaidi Abd Rozan, Deputy Director, Dr. Umar Haiyat Abdul Kohar dan advisor,  Nabil bin Mohamed.
The event was organized by Nescafe at Nathalie Gourmet Studio, Kota Damansara where 10 participating universities participated in the competition.
"We're extremely excited to see our efforts pay off, it was a challenging programme that pushed us to the limits of our capabilities. However, we are happy and we could have never achieved this feat without the constant support from our customers in UTM!
We're announcing something big soon. So stay tuned!", added Bryan.
NYEP, under Nestle, was targeted at university students to experience real-world business by running a fully equipped Nescafe small kiosk business at their respective universities with all the facilities and equipment provided by Nestle.