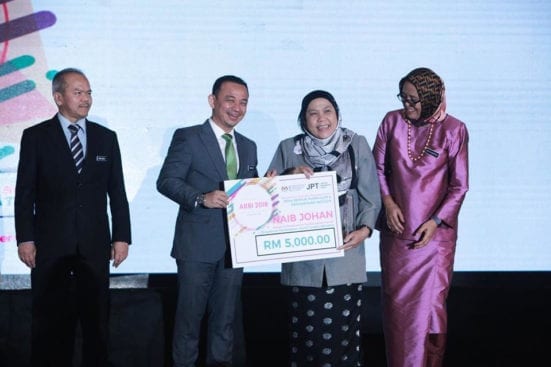 SEPANG, 15 December: – MyLinE, Language Academy from Faculty of Social Sciences and Humanities (FSSH) from Universiti Teknologi Malaysia (UTM) has won a second place in Pengalaman Pembelajaran Imersif Teradun (Blended) Category in the Anugerah Khas Menteri Pendidikan Malaysia: Reka Bentuk Kurikulum Dan Penyampaian Inovatif (AKRI) 2018 held at Movenpick Hotel & Convention Centre KLIA from 13-14 December 2018.
Out of 205 entries received from all public and private higher institutions in Malaysia, MyLinE was shortlisted to be in the top 30 finalists. These finalists were selected from rigorous selection process carried out by a group of expert panelists in November. Finalists were required to prepare a 2-minute summary video of the project and deliver a 10-minute pitch in front of four well-versed jurors in their respective category on 13 December.
MyLinE competed in Pengalaman Pembelajaran Imersif Teradun (Blended) category with the project entitled 'MyLinE UTM-UNMC BCEDP MUET Preparatory Transnational Collaboration Project'. This collaborative project helps graduate students from Bangladesh who have been selected to join the Bangladesh College Education Development Project (BCEDP) to master English and to meet the required level of MUET Bands.
This collaboration involves face-to-face trainings as well as online assistance for 1000 University of Nottingham Malaysia Campus (UNMC) international students. It could also indirectly strengthen cooperation between MyLinE and Majlis Peperiksaan Malaysia (MPM) in meeting the needs of Malaysian University English Test (MUET) candidates.
Other categories contested in AKRI 2018 were Kurikulum Program Pengajian Inovatif, Pengajaran Transformatif Tanpa Syarahan, Pengajaran Transformatif Pentaksiran Alternatif, Pembelajaran Imersif Maya and Pengalaman Pembelajaran Imersif Bersemuka.
The closing ceremony was held the next day and the awards were presented by the Minister of Education himself, YB Dr Maszlee Malik. Also present was YBhg. Datin Paduka Ir Dr Siti Hamisah Binti Tapsir, Higher Education Ministry Director-General. MyLinE brought home RM 5000 and a certificate for securing second place in the Pengalaman Pembelajaran Imersif Teradun category. MyLinE team was represented by Assoc. Prof. Fatimah Puteh to receive the award on stage.
Note: MyLinE welcomes all other related parties to work together in the areas that could assist the learning of English. MyLinE can be accessed at http://myline.utm.my. For more information, please contact myline@utm.my or 075537955.