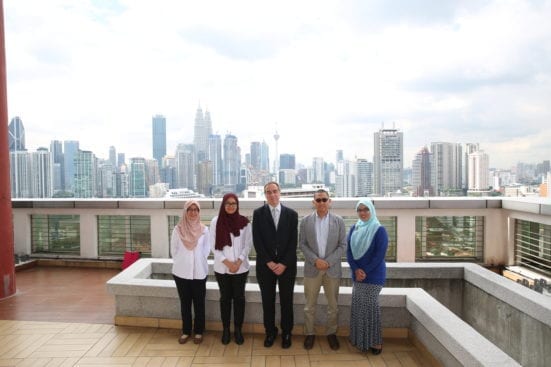 Dr. Keith Cook, Associate Director (International) of Edge Hill University, United Kingdom visited UTM Kuala Lumpur  recently. He is responsible in introducing Edge Hill Business School and looking for collaboration opportunities on student exchange program and research grants.
Dr. Rossilah Jamil from Azman Hashim International Business School (AHIBS) is keen to collaborate with Edge Hill as it offers many programs in Business and Management including Bachelor Degrees and they also offer various MBA specializations. She is also interested in linking the Professional Doctorate Emergency Services Management program offered at Edge Hill with MBA (Healthcare Management) offered by AHIBS.
She is looking forward to work closely with Dr. Keith Cook for a joint cooperation program and likely to sign the Letter of Cooperation (LoC) with Edge Hill University and  AHIBS will be the owner of this cooperation.