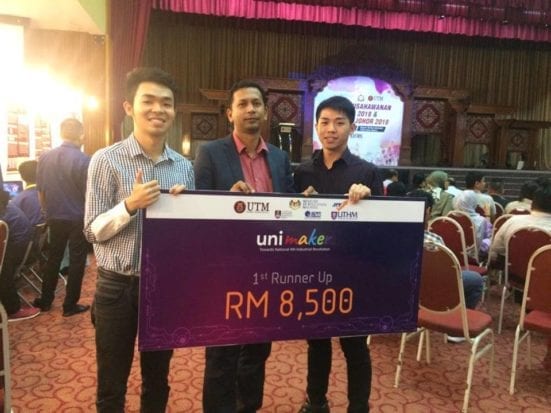 28 October 2018 – A team of Universiti Teknologi Malaysia (UTM) students from the School of Mechanical Engineering, Faculty of Engineering won the first runner-up prize in the Unimaker Southern Region 2018 held in UTM Campus Johor Bahru.
Unimaker is a platform runs by the Ministry of Education (MoE) where Malaysians build future technologies. Unimaker focuses on disruptive ideas and innovative solutions for the 4th Industrial Revolution (4IR). The 4IR is a major industrial revolution which synergizes the physical, digital and biological world of applications. These applications derived from emerging technology advances in robotics, 3D printing, cloud computing, artificial intelligence and biotechnology, etc. Unimaker is the first step of having Maker movement within university campus environment.
The UTM team consisted of three students: Ng Ting Sheng, Chan Chen Lam, and Bryan Chua Seck How, supervised by Dr. Kamarulafizam bin Ismail, a senior lecturer from the School of Mechanical Engineering and also a research member of the Institute of Human Centered Engineering (iHumEn). The team has developed an innovative fishing solution to help coastal fishermen to catch fish using an autonomous fish trap which will automatically navigate in the sea to trap fish and return upon completion without any human intervention.
Out of 60 teams participating in the event representing various universities, the UTM team managed to win the first runner-up and received RM8,500 in cash that can be used to further develop their product. They will also be representing the Southern region and UTM to participate in the Unimaker National Competition 2018 which will be held on 24th and 25th of November.