KUALA LUMPUR, 20 Oct. – Universiti Teknologi Malaysia (UTM) and Malaysia Green Technology Corporation (GreenTech Malaysia) exchanged a Memorandum of Understanding (MoU) at the 9th International Greentech & Eco Products Exhibition & Conference Malaysia (IGEM) at the Kuala Lumpur Convention Centre, here.
UTM was represented by the Deputy Vice Chancellor (Academic and International) Prof. Ir. Dr. Zainuddin bin Abd Manan, who is also the Advisor for UTM Sustainable Energy Management Program and a Technical Advisor for GreenTech Malaysia and Ministry of Energy, Science, Technology, Environment and Climate Change (MESTECC), while the Secretary General of MESTECC, Datuk Seri Dr. Mohd Azhar bin Hj. Yahaya,received the MoU on behalf of GreenTech Malaysia.
UTM and GreenTech Malaysia have actively collaborated on Energy Management capacity building and R & D for more than a decade.
The MoU exchange at IGEM marked the enhanced commitment between both parties to intensify energy management capacity building and R & D in Malaysia, and to drive the initiative across ASEAN in co-operation with the ASEAN Centre for Energy (ACE).
GreenTech Malaysia is the Malaysia focal point for Implementation of ASEAN Energy Management Accreditation Scheme (AEMAS) which provides training and certification for professionally-certified energy managers as well as energy end user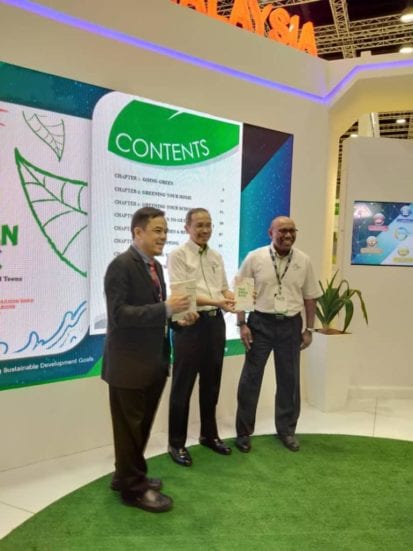 s (organisations).
UTM, one of Malaysia's leading Research Universities, and so far the only AEMAS-certified 3-Star Energy Management Gold Standard (EMGS) facility in Malaysia has been appointed by GreenTech Malaysia as the centre for CEM Training  for the Southern Region in 2014.
UTM so far has the most number of AEMAS-Certified Energy Managers (CEM) within an organisation.
The MOU renewal will bring the UTM-GreenTech Malaysia- collaboration to greater heights through:
Capacity building of certified energy managers and certified experts on technical areas of energy audit and optimisation including on thermal energy, in Malaysia and across ASEAN
Recognition of UTM Master in Energy Management programme as a route to AEMAS Energy Manager certification.
Development and implementation of smart energy management system to assist Energy Management System certification under AEMAS Energy Management Gold Standard (EMGS) and ISO50001.
R&D partnership on Smart Digital Energy system in buildings, involving Japanese institutions under the Japanese Science and Technology Research Partnership for Sustainable Development (SATREPSProgram).
Prof. Zainuddin said, the cooperation was vital in building sufficient capacity of expert trainers, energy managers, energy experts and smart energy system tools to reduce energy consumption especially for the public-private organisations covering the government, commercial and industrial sectors across ASEAN.
He envisioned for the cooperation to contribute towards achieving Malaysia's targeted commitment on reducing 45% CO2 carbon emission by 2030, and to promote initiatives under the United Nation Sustainable Development Goals associated with Clean Energy.