Johor Bahru,  31st October 2018: Universiti Teknologi Malaysia (UTM) and Digital Johor Sdn Bhd (DJSB), a subsidiary company of Kumpulan Prasarana Rakyat Johor Sdn Bhd today formalized its collaboration in an MoU document exchange session held in conjunction with UTM Innovate Johor 2018's closing ceremony. The central focus of the collaboration was to support and establish impactful initiatives and programs in line with the recent new focus areas introduced in the Eleventh Malaysia Plan (2016 – 2020) Mid-Term Review.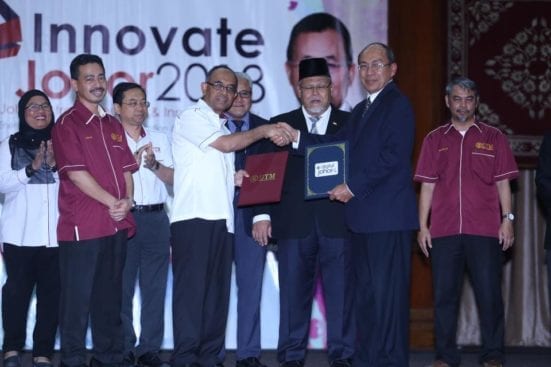 This is also aligned with the aspirations set upon by the State of Johor through its "Sustainable Development Plan (2019 – 2030)". This plan aims to transform Johor into a competitive state through sustainable development which will later facilitate people to develop a first-class mindset. This agenda is further strengthened by the Fourth Thrust: Trade Zone & Digital Community Driver that mainly focuses on the enhancement of the digital sector in Johor.
UTM,  which is a leading innovation-driven entrepreneurial research university in engineering science and technology has an extensive track record in carrying out value-added research as well as human capital development programs in the Digital and IT Sectors via its Faculty of Engineering. Together with DJSB, with an extensive industrial network, the collaboration is set to complement UTM in commercializing its research by unlocking the potential value through innovative Digital and IT solutions and human capital development for the Digital Economy.