A public forum entitled Airport Operations & Stakeholders Expectations: A Metamorphosis into the Future was successfully conducted by the Azman Hashim International Business School (AHIBS) of Universiti Teknologi Malaysia on the 13th October 2018 in Menara Razak, UTM KL premises. This initiative was introduced by the team from the MBA (Aviation Management) program, led by Dr. Rahayu Tasnim, and exclusively moderated by Adjunct Professor Dato' Sri Azharuddin Abdul Rahman, the former Director of CAAM (formerly known as DCA), as part of AHIBS' Innovation Business Strategies Discourse Series.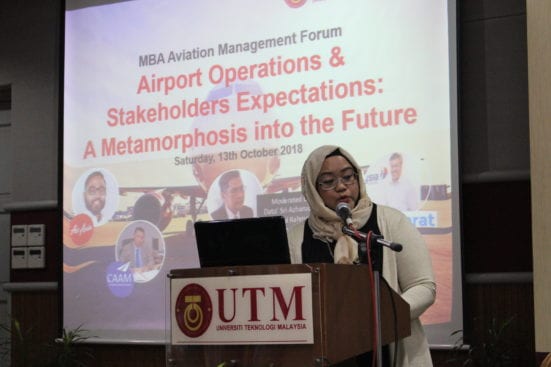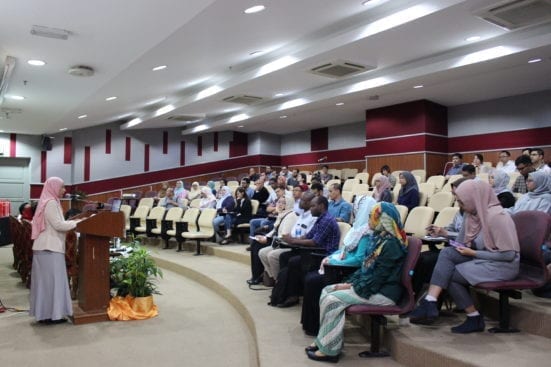 The forum kick-started with the welcoming address by Prof Dr. Nur Naha Binti Abu Mansor, the Dean of AHIBS, followed by the opening address and panel introduction by YBhg. Dato' Sri Azharuddin Abdul Rahman. A team of respected panelists from various aviation industries and authorities contributed to the forum discussion and they are:
Dr. Zainul Fuad Md Wahi, Deputy CEO (Operations) from Civil Aviation Authority of Malaysia 

(CAAM)

Mr. Mohamed Sallauddin Mohamed Shah General Manager of Airline Marketing, Malaysia 

Airports Holdings Berhad (MAHB)

Mr. Sudirman Kushairi, Head of Operations Management from AeroDarat Services Sdn Bhd

Puan Nor Azlina Mohd Isa, Group Head of Airport Infrastructure Development, AirAsia

Mr. Chandran Ramamurthy, Chief Executive Officer Malindo Airways
It was also a significant moment for AHIBS and UTM, as two of the panelists are UTM Alumni, who were proud to contribute back to the society in terms of knowledge and experience transfer via formal sharing platforms such as this.  Mr. Chandran Ramamurthy (CEO Malindo Airways) and Mr. Mohamed Sallauddin Mohamed Shah, GM of Airline Marketing MAHB were once students of UTM, and are now holding major posts in the aviation industry.
The highly interactive forum discussed critical issues and forecasts in airport operations from the perspective of multiple stakeholders. It exposed students on the managerial and futuristic aspects of handling airports in this highly challenging business environment. With the line-up of respectable panelists, the discussion led to more thought-provoking arguments and was very ingeniously moderated by YBhg. Dato' Sri Azharuddin himself. The audience, who came as far as from Johor Bahru, expressed their appreciation on the experienced gained from the event.
The forum ended at 12.30pm, with a special photo shoot.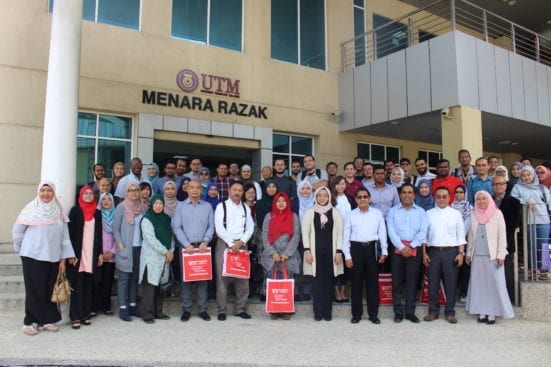 Story by: Dr. Rahayu Tasnim