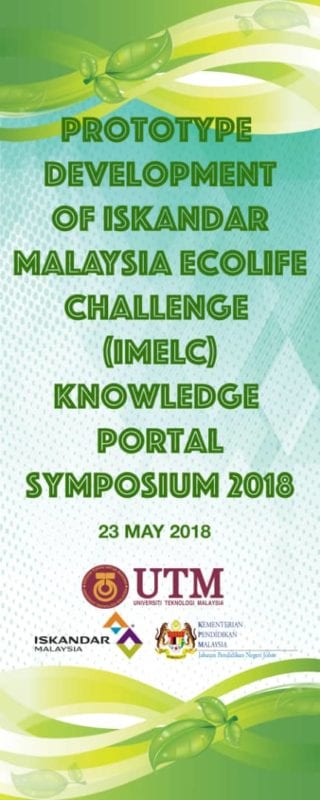 A Symposium on Prototype Development of Iskandar Malaysia Ecolife Challenge (IMELC) Knowledge Portal for Low Carbon Education program was conducted at the Faculty of Computing on 23 May 2018. The main goal of the Symposium was to provide training and increase the knowledge of the 2nd year students of Computer Science (Software Engineering, SCSJ) on Software Engineering and Requirements Engineering areas, particularly on software development environment based on real stakeholders' perspectives. The collaborated stakeholders involved in this program were Iskandar Regional Development Authority (IRDA) & Johor Education Department (Jabatan Pendidikan Negeri Johor, JPNJ).





The program was also designed to provide real world exposure to students by presenting their works via posters and prototypes demo to stakeholders. This program focused on sustainable development initiatives which was in line with the industry standards and Ministry of Education Malaysia's agenda. Via this program, students were taught on how to understand the critical requirements from the specific stakeholder and to apply relevant requirements elicitation techniques during software development project.
In addition, the program aimed to implement Project-oriented Problem-based Learning (PoPbL) pedagogy model that is in line with UTM's New Academia Learning Innovation (NALI) aspiration. This approach was employed to expose students to case study-based problem solving techniques that are important in nurturing relevant employability skills such as collaboration and group communication. It was hoped that by implementing the PoPbL approach in learning and teaching activities, the faculty is able to produce the highly skillful and competent software engineers to-be, as well as to expose the learners with professional and generic skills that are critical in facing the era and challenges of the future 4th Industrial Revolution.
According to Dr. Noraini Ibrahim, the program director cum Course Coordinator for SCSJ2253 Requirements Engineering & Software Modeling, there were 3 objectives outlined for this program:
To provide exposure to students on the real and critical needs for sustainable software development from both the industry and community perspectives.
To provide opportunities for students to practice the theories and knowledge acquired in the classroom to be used in real-world domains.
To establish closer ties and cooperation with external stakeholders, especially the general community and the industry.
The posters and prototypes presented during the Symposium were evaluated by selected stakeholders namely IRDA, JPNJ and teachers from selected schools involved in the IMELC project. This program involved 4 lecturers and 61 students taking 2 courses namely SCSJ 2203 Software Engineering and SCSJ 2253 Requirements Engineering & Software Modeling. The backbones for this program were the lecturers who taught these 2 courses:
Dr. Shahliza Abd Halim – SCSJ 2203 Software Engineering (Section 02)
Dr. Nor Azizah Sa'adon – SCSJ 2203 Software Engineering (Section 03)
Dr. Noraini Ibrahim – SCSJ 2253 Requirements Engineering & Software Modeling (Section 01)
Prof Dr. Radziah Mohamad – SCSJ 2253 Requirements Engineering & Software Modeling (Section 02)
The Symposium was a success and all stakeholders involved namely IRDA, JPNJ and selected teachers were satisfied with the students' performance in developing and presenting their low carbon education science portal prototypes. To raise the stakes, prizes were awarded to 3 winners for each category namely best poster and best prototype demo, while the Best of the Best award was awarded to the overall winner for both categories. Marks were given based on the students' ability to meet stakeholders' needs and accomplished to provide quality software features.
More related pictures during the Symposium can be viewed at: https://comp.utm.my/photos/?p=29984
Prior to that, a workshop on the requirements elicitation and stakeholder brainstorming with IRDA and JPNJ had been conducted face-to-face and via a knowledge sharing session. The conducted workshop provided opportunity to the learners to communicate further with their stakeholders in order to understand and solve the given case study problems. Related pictures during the workshop can be viewed at:: https://comp.utm.my/photos/?p=29697