JOHOR BAHRU, 31 Oct. – Universiti Teknologi Malaysia (UTM) through the centre of excellence, Advanced Membrane Technology Research Center's (AMTEC), has organized the 2nd National Congress on Membrane Technology (NATCOM) 2018 seminar.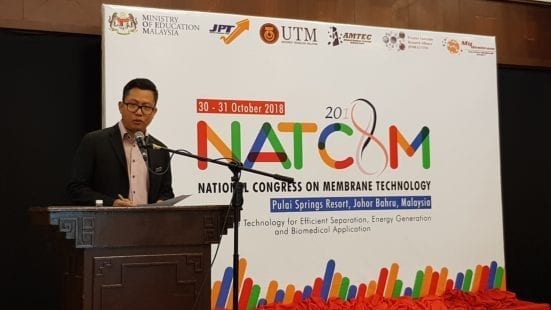 The conference, with the theme, "Membrane Technology for Efficient Separation, Energy Generation and Biomedical Applications" was held at Pulai Spring Resort, Johor Bahru from 30 to 31 October 2018.
The programme aimed at devoting experts in the field of membrane technology to discuss and exchange opinions on the latest findings in membrane technology.
Chairman of NATCOM, Dr. Mukhlis A. Rahman said the program has achieved its objectives for discussing the state-of-the-art, new research results, perspectives of future developments, and innovative applications relevant to membrane technology an d its applications.
During the conference, distinguished professors in the field of membrane technology from within and outside the country such as from Turkey, Japan, Indonesia and the United Kingdom were invited as speakers.
Among them were Prof. Dr. Ismail Koyunchu from Istanbul Teknik Universitesi, Prof. Dr. Yuji Iwamoto from Nagoya Institute of Technology and Prof. Dr. Kang Li from Imperial College London who shared their expertise relating to the conference theme.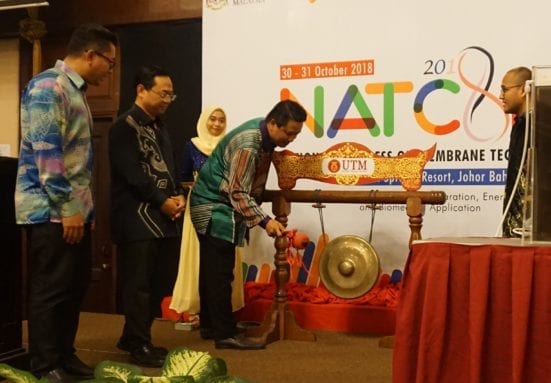 The NATCOM 2018 was officiated by Johor State Financial Officer, Dato 'Haji A. Rahim bin Haji Nin as representative to the Menteri Besar of Johor in the Grand Dinner ceremony on 30 October.
"Membrane technology research is essential for the development of water treatment technology.
In 2017, three water treatment plans were closed due to the ammonia pollution in the Johor River, causing 1.8 million people suffering from water disruption. Based on Johor Water Resource Study 2010-2060 report, water consumption is also expected to increase to 80% by 2028.
The report shows the importance of maintaining water resources," Menteri Besar of Johor Political Secretary, Encik Saiful Sidek bin Abdullah said in his speech as representative to the Menteri Besar of Johor.
"Malaysia needs to pay 50 cents per 1000 gallons of treated water to Singapore although we sell the water source at 3 cent per 1000 gallons.  This is the importance of AMTEC's efforts to reduce our dependence in neighbouring countries.
Johor hopes to preserve natural resources, control pollution and use "waste to energy" and "zero discharge", thus this aspiration requires the element of expertise to drive Johor and Malaysia into a developed nation," he added.
The ceremony was also attended by Deputy Vice Chancellor (Research & Innovation), Prof. Datuk Dr. Ahmad Fauzi Ismail, honorary guests, plenary and invited speakers and NATCOM 2018 participants.
Around 100 participants from within and outside the country have attended the seminar.