JOHOR BAHRU , 16 Oct.  – A Language Academy Japanese Language Teacher, Mr. Loh Khai Xian is now pursuing his master's degree after being awarded the Japan Foundation study grant worth around RM92, 000 to complete his intensive one year master program at Urawa Japan Foundation and Graduate Institute for Policy Study of Japan this year. He is one of the only four recipients of the grant for the year 2018.
Mr. Loh entered UTM as a FGHT student in 2006. During his second semester he started to learn Japanese Language Level One as a free elective subject. He furthered till Level Three which is the highest level of Japanese Language course offered at Language Academy, UTM. He then took the Japanese Language Proficiency Test (JLPT) which is the international exam for Japanese language, conducted by Japan Foundation at UTM, which is one of the JLPT test centers in Malaysia.
When Loh Khai Xian graduated from UTM in 2010, he had passed the Level Three  of JLPT. He then furthered his masters at FGHT and kept taking the JLPT lessons. He managed to get Level 2 and was sent to Osaka for a three months intensive Japanese Language and Culture program sponsored by Japan Foundation. He became an unofficial teaching assistance to Japanese language lecturer Mr. R.Kumaraguru and started to train teaching the language. He successfully went through the basic Japanese language teacher training course conducted by Japan Foundation while training at UTM.
Besides, Mr.Loh too became the first UTM student to pass the highest level of JLPT which is level One. Upon completing his masters in 2014, he was offered a contract post by Language Academy to teach Japanese language. While polishing his Japanese language teaching skills, he was preparing to get his second masters in Japanese Language education and was awarded the Japan Foundation study grant worth RM92, 000.
Another milestone for UTM in producing its own Japanese Language teacher. Congratulations Mr. R. Kumaraguru for heading the Language Academy Japanese Language programme.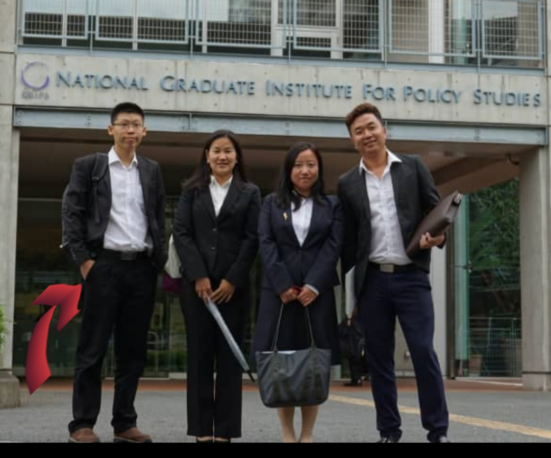 Mr. Loh Khai Xian, left, standing in front of the National Graduate Institute for Policy Studies in Japan.